Iceland March 2017
We (my wife and I) have always wanted to see the Northern Lights which was the main attraction to visiting Iceland. It is of course never guaranteed that you will see the lights but as we were going for a week we thought we would have a good chance of seeing them.

Being a wheelchair user I wanted to avoid the snow so we booked to go in March when the weather was more moderate and the nights would be dark.

We flew from Birmingham Airport to Keflavík which took around 3 hours and we stopped in the Radisson Blu 1919 Hotel, Reykjavik City in the fashionable 101 District close to the harbour. The room was pleasant with a suitable wet room. The best thing about the hotel though was it's location. The center of the city was a stones throw away and the harbour about 15minutes walk / wheel. The down town area area is flat and the majority of the local shops and restaurants were accessible.

Prior to the visit we had arranged a taxi firm to pick us up from the airport and take us to the places we wanted to visit in Iceland. There is a shuttle bus available to take you too and from Reykjavik City but it's not accessible for wheelchair users – unless you can walk up a few steps into the bus.

On our list of things to do was a visit to the famous Blue Lagoon so as soon as we exited the airport our taxi driver took us to the Hotel where we dropped off our bags and headed to the Lagoon which was about 30 minutes away. We had pre-purchased our tickets online and we would recommend doing this as it can get very busy especially during peak times.

This was our first experience of the surrounding landscape, by the road side is was flat with dark rocks of various sizes scattered around, people often make references to the moon (not that I have been), in the background are large snow covered mountains. The roads are very smooth and look brand new. The scenery is so different to what you would find anywhere in Europe which was exciting and interesting. Reykjavik city is clean and has a range of interesting colourful buildings. From the harbour area you can see sweeping views of the blue sea and the nearby hills.

Blue Lagoon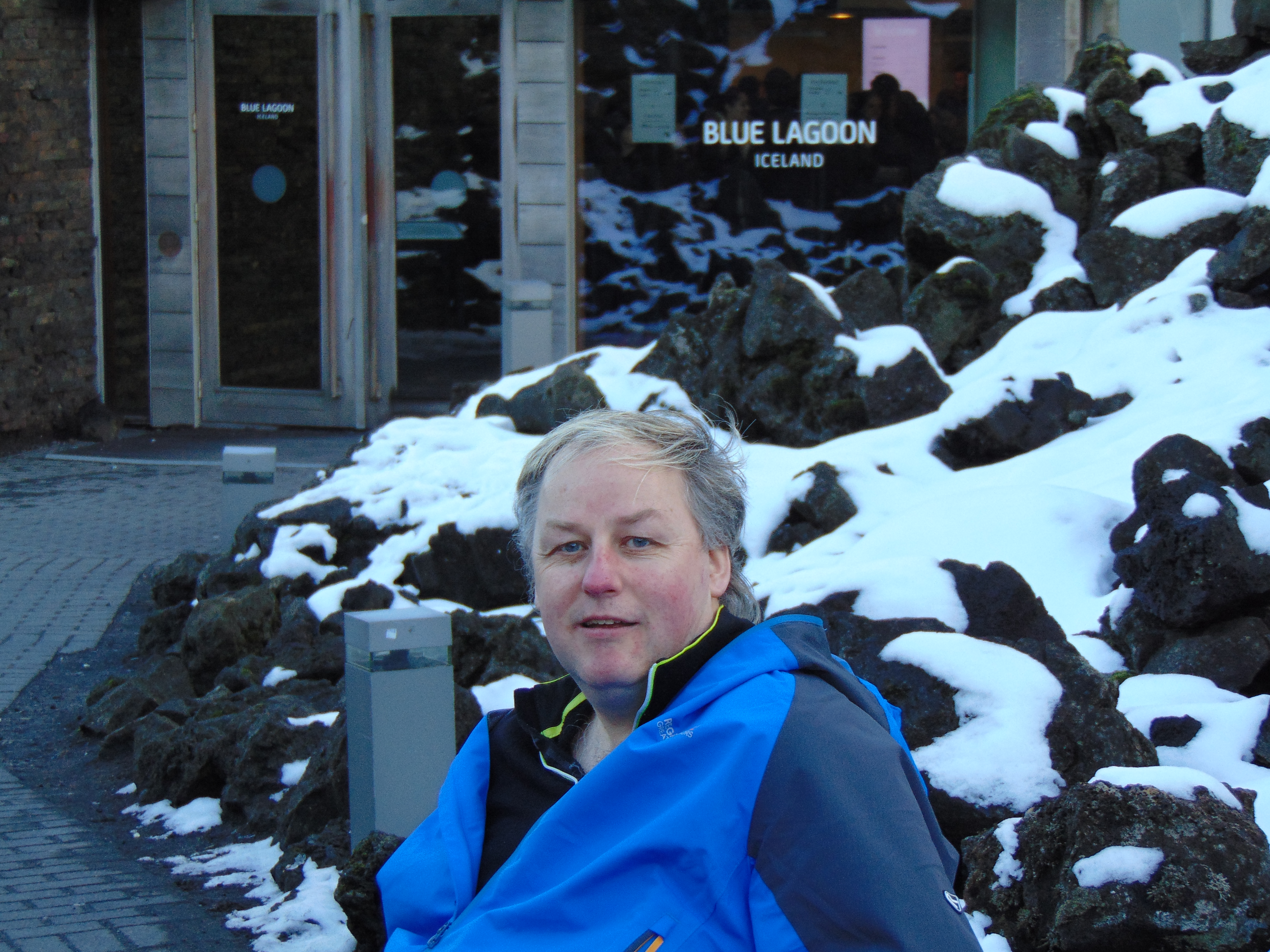 Our taxi driver dropped us at the Blue Lagoon car park and we made our way to the entrance. It was early evening but still busy with visitors from all over the world. A room was available where disabled people can change – but there is only one and we had to wait about 20 minutes for it to become available. Once changed I transferred onto a shower chair. The staff were excellent and were keen to help in anyway they could. I accessed the Lagoon via a ramp and once submerged to my stomach I pushed off into the water. It was lovely and warm like a hot bath. The only problem I had was the Lagoon was not that deep so I kept falling to my left and right. So the staff kindly gave me some foam floats to keep me stable. On our visit the Lagoon was covered in a mist so you could only see about 2 feet in front of you which made it even more magical. We could hear laughter and voices from one area so we decided to investigate and found a pool side bar. There was also another pool side facility offering mud face packs. You covered your face then left for about 20 minutes before washing off in the hot water. We spent a very pleasant hour and a half in the lagoon and then headed back to the changing room. You could easily spend a day there if you wanted too.
We were lucky with the weather, the week we were there was dry but the wind chill is something else. You will need thermals and at least three layers to keep warm outside. You will also need suitable footwear to protect your feet from getting cold. Such a contrast to how warm the buildings are inside, mainly due to the cheap thermal energy available.
The Golden Circle
The next day the taxi driver picked us up at the hotel to do the Golden Circle tour. The Golden Circle consists of three equally stunning locations in southwest of Iceland: Thingvellir National Park, the Geysir Geothermal Area, and Gullfoss waterfall.
Thingvellir National Park
Our first stop was at the Thingvellir National Park were you had a great view of the surrounding area. This is where the tectonic plates of two continents meet. Iceland sits spanning the Mid-Atlantic Ridge tectonic plate boundary which separates the Eurasian and the North American plate.
As you can imagine the view was spectacular. At the stop was a large accessible platform that provided a bit more height so you could see more of the surrounding landscape and next to the car park was an accessible gift shop that provided food,drink and accessible toilets.
Gullfoss
At Gullfos there is an accessible visitor centre, cafe and accessible toilets. From the car park there is an easy to navigate pathway leading to a viewing platform to view the spectacular waterfalls. At the time we visited the water was in full flow thundering down the valley. We watched for some time never getting bored of the amazing site, we could have watched it all day it was so mesmerising.
Geysir
Again here you will find a visitor center, cafe and accessible toilets. We did have a meal here which was really good as they served local icelandic dishes. The area around the Geysir and thermal springs is a bit bumpy and uneven – fortunately I had brought with me my "Free Wheel" which attaches to the front of my wheelchair raising up the two front castors. This made negotiating the area much easier, I would have struggled without it as it was wet and muddy and that was on a dry day. It's was worth the effort to watch the Geysir spout up into the air at regular intervals. The thermal springs really give you a sense that the planet is alive.
Reykjavik
It was easy to explore the city from our hotel – the downtime and harbour area is flat and easy to access. The harbour is an interesting location to visit and wander around, some great restaurants can be found here. You will also find the Harpa Concert Hall (you can't miss it) a huge glass building which is fully accessible. It has various theatre and concert halls and there is usually an exhibition of some kind going on. We did take in a show one evening called "How to become ICELANDIC in 60 minutes" which was very entertaining.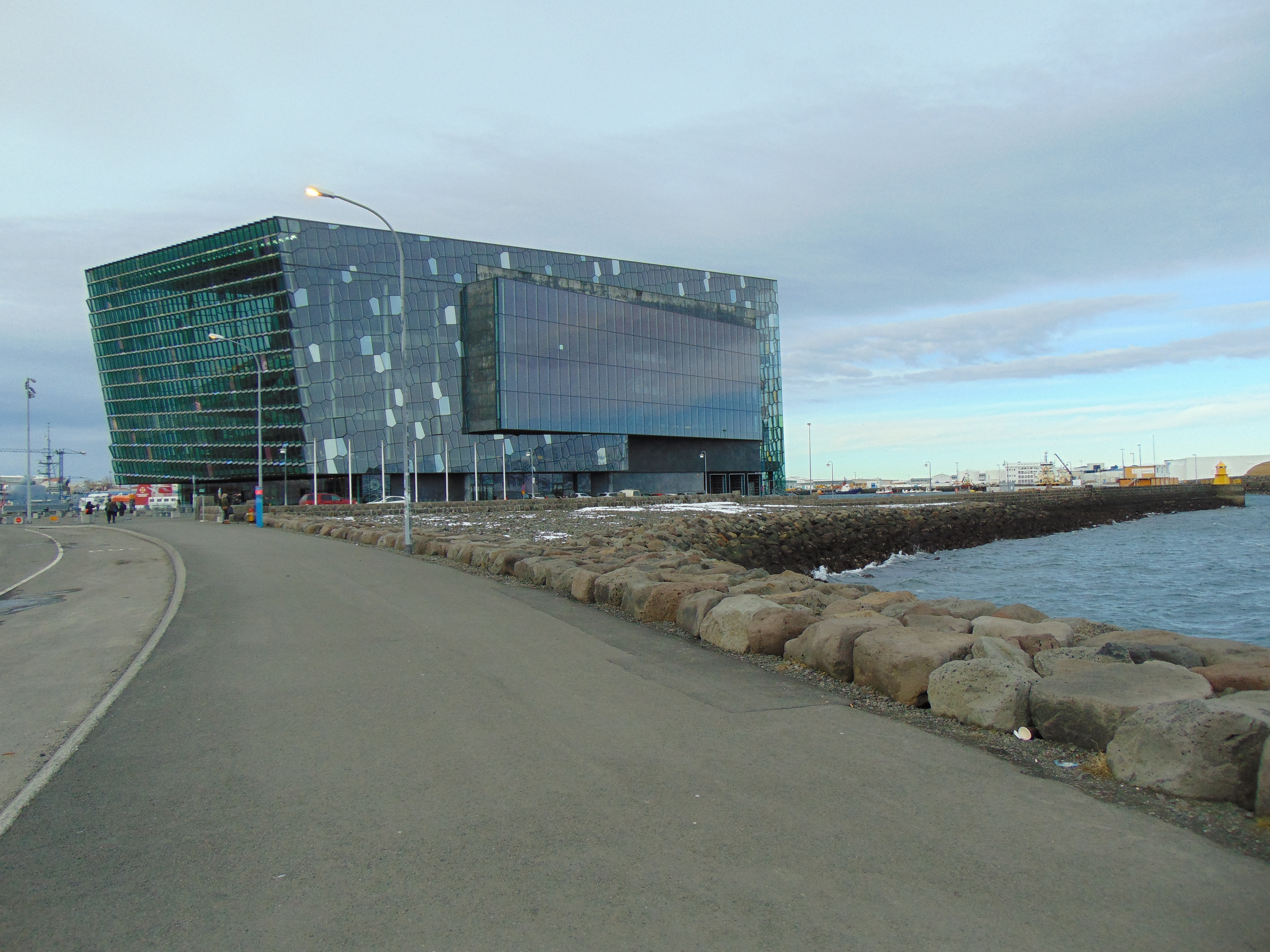 A Reykjavik icon is the Hallgrímskirkja church which sits on the hill top. It was not far from our hotel but you do have to wheel / walk uphill, which for the average wheelchair user would be a struggle (without help). The church structure is as impressive on the outside as it is on the inside. The church was very welcoming to tourists and we attended a service of about 30 minutes taking in the amazing atmosphere and the sounds from the biggest organ I've ever seen!
The city is vibrant with cafe's, restaurants, clubs and shops which has a great buzz about it. Maybe I should mention at this point that we did find it very expensive. A three course meal for two with drinks left us little change from £100!
There is one cheap food available that has become popular amongst locals. A particular hot dog available from Bæjarins Beztu Pylsur kiosks. They are located near the Reykjavik harbour since 1937 and mentioned in many guidebooks recommending tourists to visit this little food place. The hot dog is served with fried onions, ketchup and, not surprisingly, sweet brown mustard, regular mustard plus remoulade. Icelanders are notorious for their copious variety of sauces! We were very fortunate to have one across the road from the hotel we were staying in, and we can agree that they are very tasty!
Northern Lights (Aurora borealis)
It was mid week when the conditions were just right to see the Northern Lights so that evening the taxi took us out of the city into the countryside off the beaten track. When the taxi driver turned off his headlights it was so dark, you could barely see anything in front of you. The night sky was full of glittering stars. After about 20 minutes in the freezing cold we got the experience we had been hoping for. Initially we saw a slither of green light then it began to grow and expand until it became a large shimmering green light dancing in the night sky. It was not on the scale that you probably have seen on TV – but it was a special moment as it seemed to have appeared just for us. It was an experience that we will never forget.
Our Experience
One advantage to using a taxi was that our driver was extremely knowledgable about everything in Iceland. As well as learning all about the main attractions and landscape, we discovered all about the economy, jobs, lifestyle, language, customs etc. We got a real insight into the life of the Icelandic people.
A much cheaper option would be to hire a car. If you are confident enough, we would recommend hiring a vehicle when the weather is moderate. You can't really get lost as there are so few roads and everywhere is sign-posted. You can then spend as much time as you like visiting areas of interest.
We found everyone we met very friendly and helpful. We experienced a slice of Iceland but there is so much more to see such as Whale Watching, Snow Mobiles, Quad Biking, Horse Riding, Other Thermal Pools, Theatre Shows, Snorkelling and Fishing to name a few.
I would certainly recommend it as a wheelchair user during the non-snowy months. The main tourist spots have been designed with accessibility in mind and I found the city very accessible too.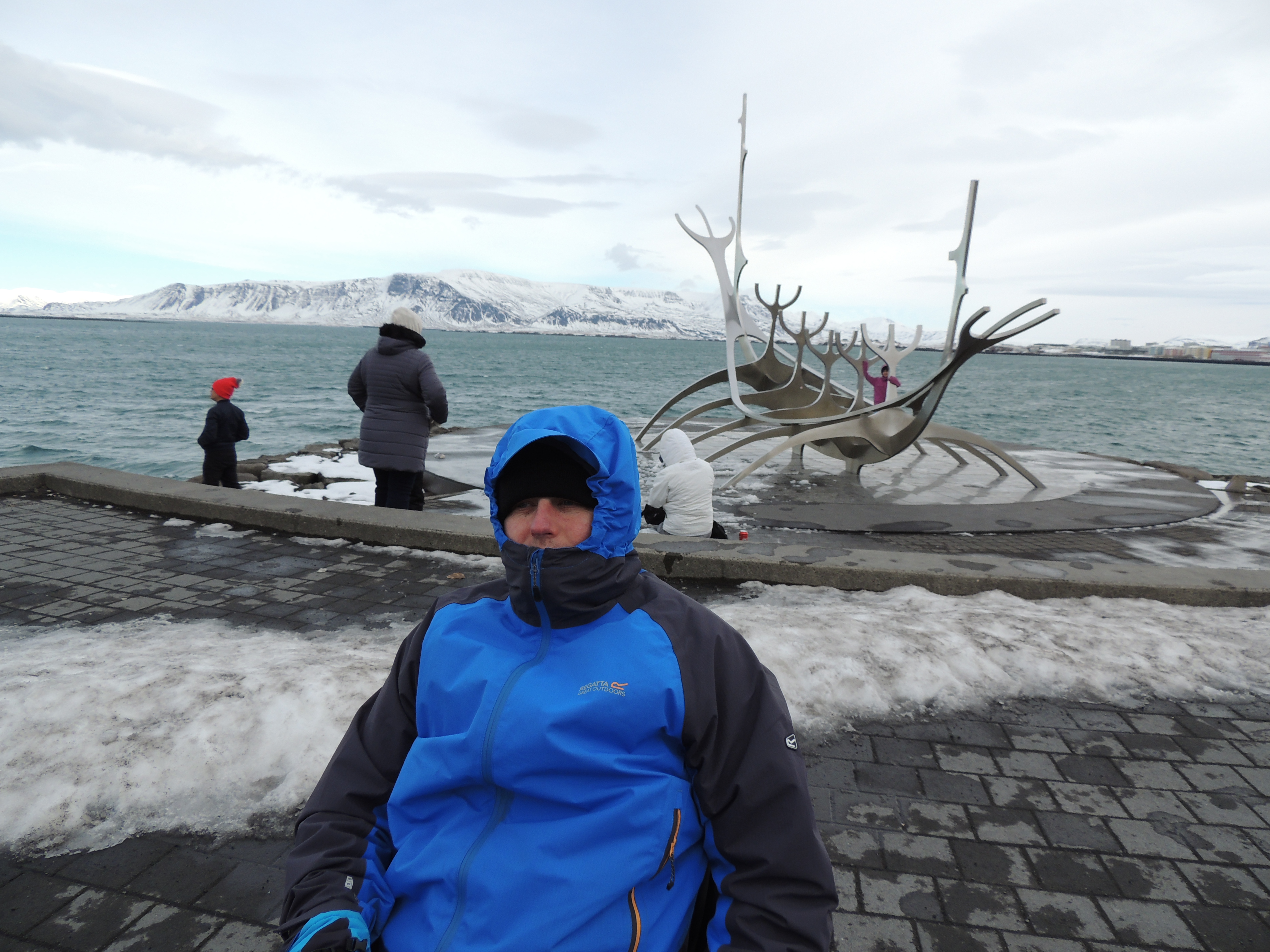 * You will need to
login as a user
to leave a comment or reply to an existing one.
---
Comments