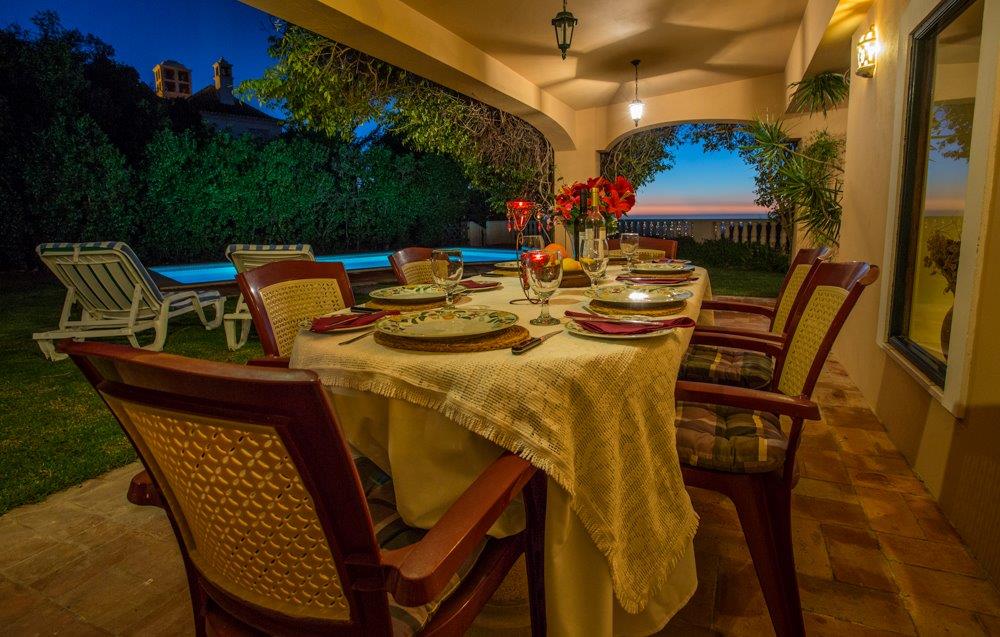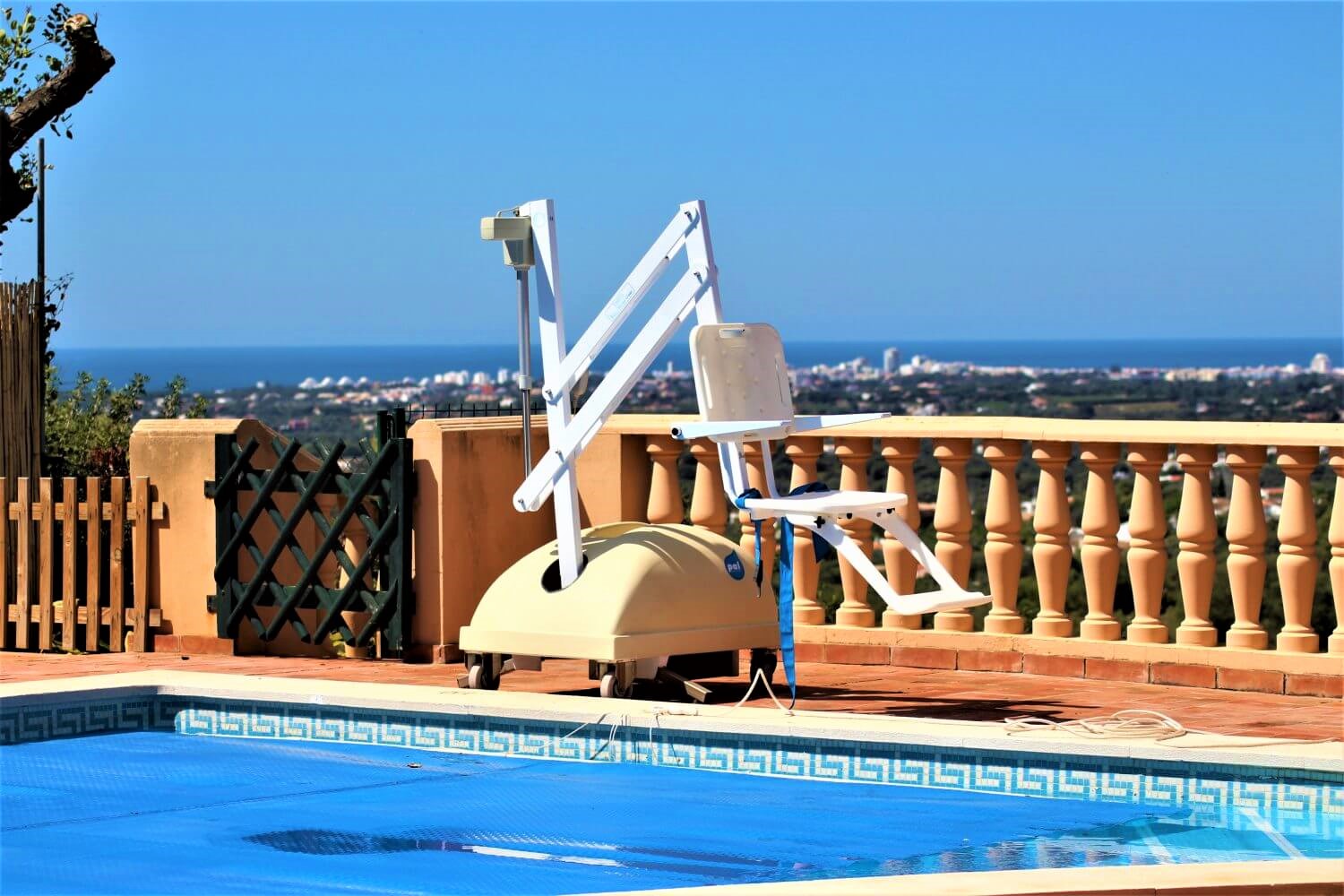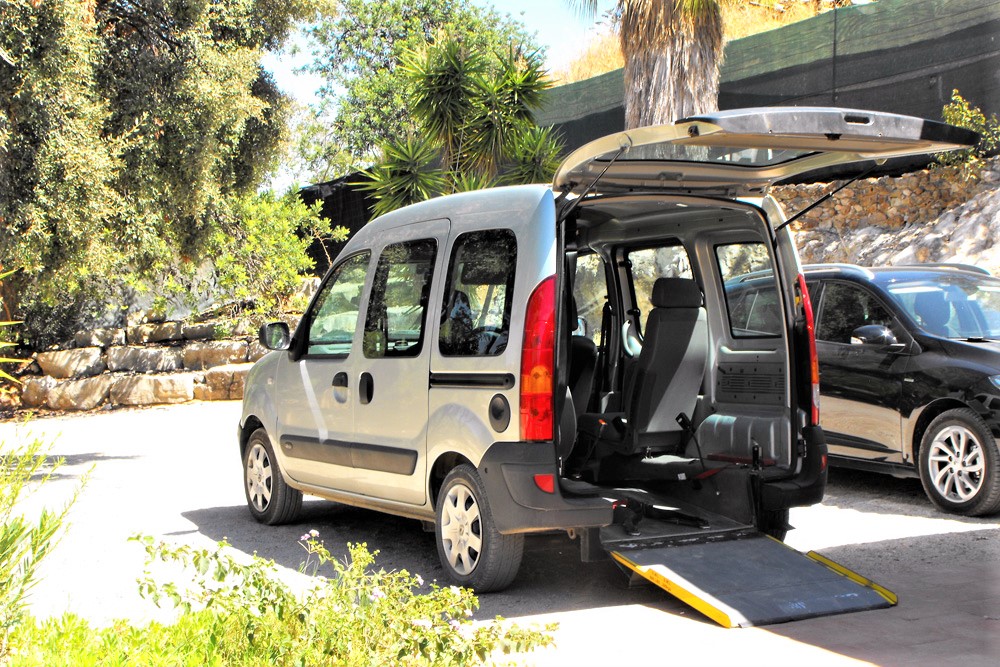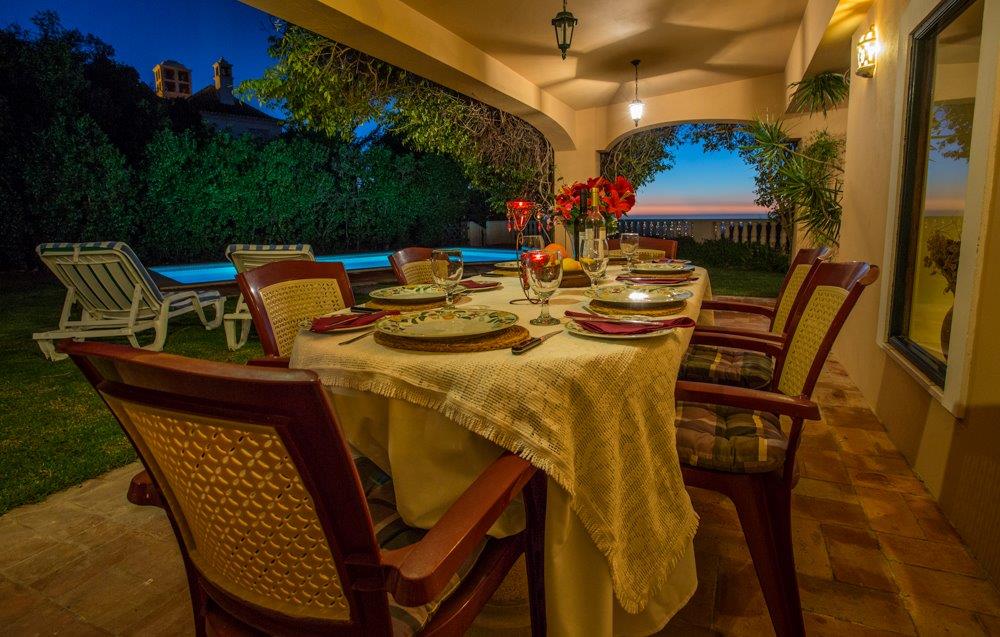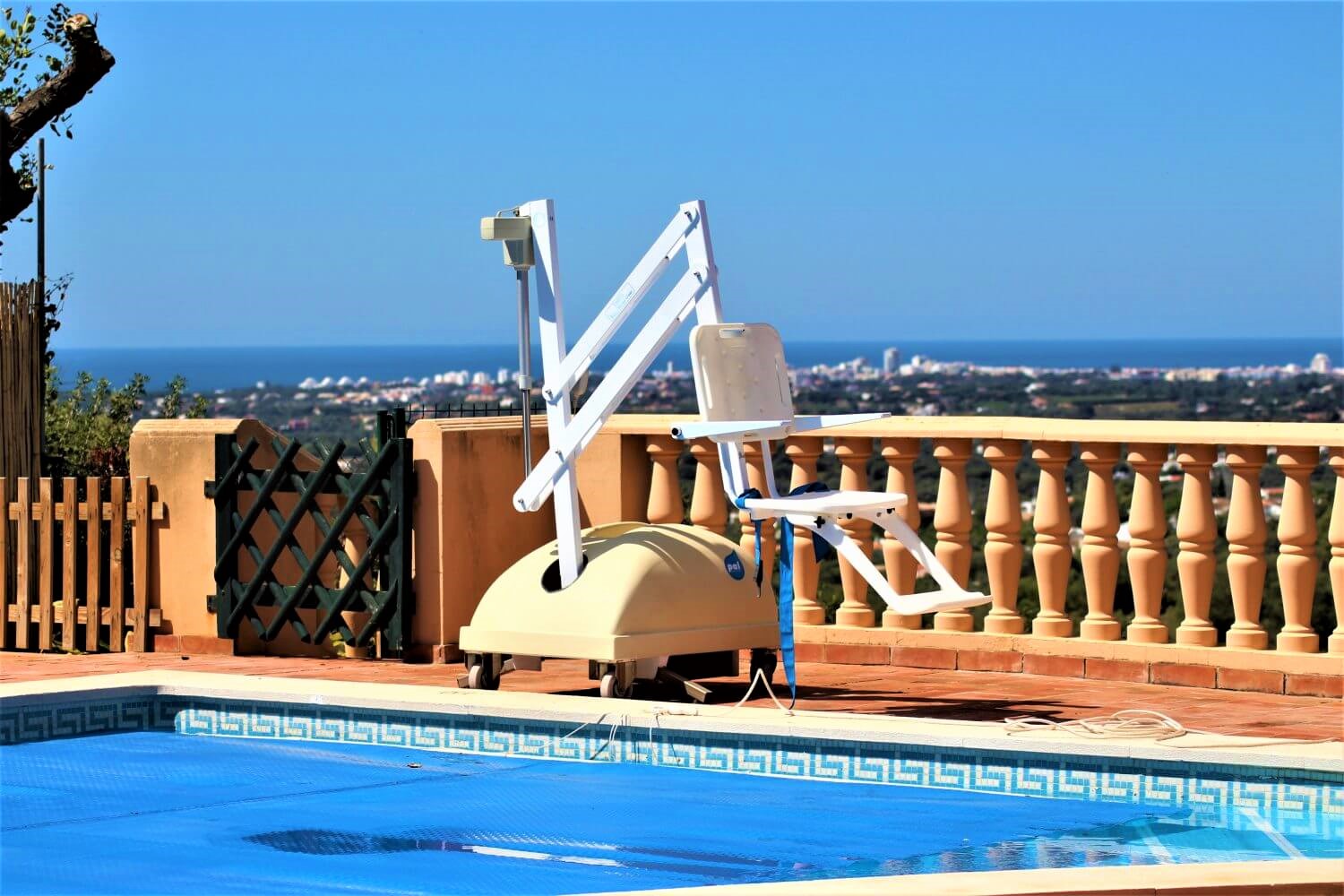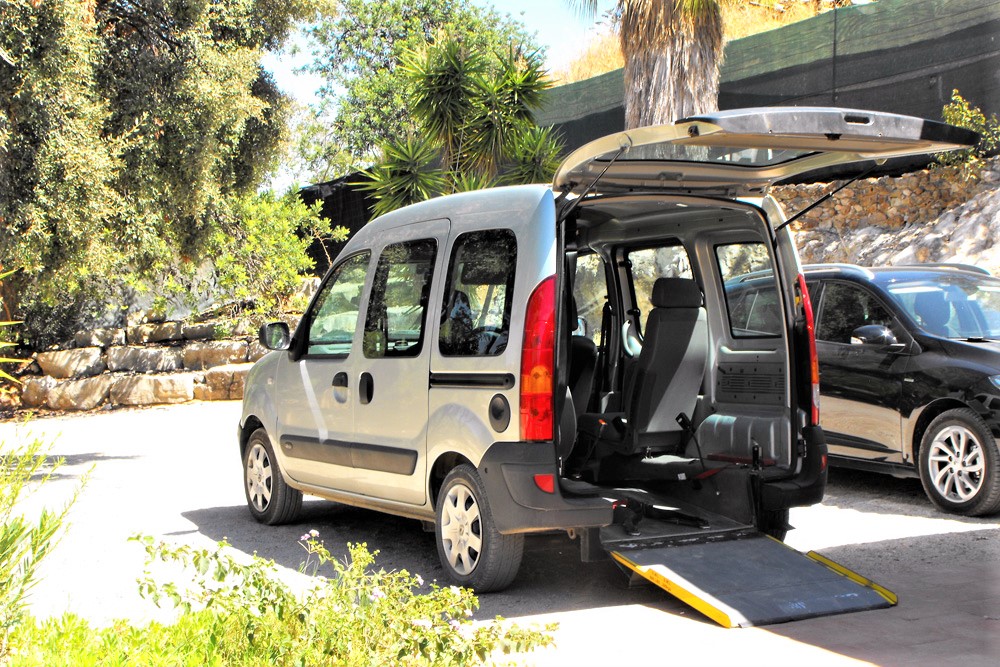 ---
---
Luz do Sol is situated on 3,000m2 of private land and has been adapted for wheelchair user. With plenty of private parking on level ground in front of the entrance door, leading into the hall way, there are two steps down into the lounge where there is a sturdy ramp especially designed for wheelchair use.

The villa is spacious and light, with amazing views to the coast and countryside. Large accessible covered terraces, allowing shady areas to relax in, built in BBQ and a pathway through the garden to the large pool, a PAL battery operated pool lift. The villa is all on one level with sturdy ramps where needed. Included in the rental is a shower/commode chair, shower trolley, massage table, mobile hoist,10cm loo raiser, also the complementary use of a accessible ramp vehicle (WAV) and airport transfers. Level access shower room. Mobility hire is also available.. Extensive covered terraces around the villa, small ramps where needed, BBQ area and level grassed garden, the pool 9.50m x 4.50m with shallow Roman entry steps,there is a PAL pool lift installed. Plenty of dining areas and sun loungers, the mornings are filled with birdsong from the wide variety of bird life found here. The villa has been designed to take full advantage of the views, and sunset that the Algarve has to offer.
---
---
Luz do sol , Vale Formoso is situated north of Almancil and south of Loule, there are many beautiful accessible beaches all within 15 minutes drive of the villa. The area is has plenty on offer for all, golf, karting with parakarts hand controls, a wide selection of accessible restaurants and shops, water slide parks, zoo marine" and accessible boat trips.
Faro Airport is 15 minute drive in an accessible vehicle which will be organise for you to the comfort of Luz do sol once at the villa you will have the use of an accessible courtesy car.
We can also arrange carers, nurses and if you need any mobility equipment that is not kept at the villa we will also arrange this on your behalf with a local hire company.

The villa is ideally situated to take full advantage of all the Algarve has to offer within easy reach, situated in a stunning peaceful valley the mornings are filled with birdsong from the wide variety of bird life found here.
---
---
5.00
(Based on 5 reviews)
by JennyK
Fantastic Disabled Friendly Villa
You won't find a better deal as I scoured the web and hundreds of locations before booking the villa with Caroline the owner. I booked for 11 days in October with my disabled sister and our partners. Everywhere was accessible for my sister who had hired a motorised scooter to get around the villa. There are ramps all around and a wheel in shower with a toilet riser too. Everything you need for a self catering holiday is there - fully equipped kitchen, tv with English channels and even a huge array of books to read while you relax. The views are just incredible and sitting on the terrace in the morning with the birds singing was just so peaceful. The evenings were also amazing watching all the lights twinkling in the distance while we dined outside with the pool lights on. Our host Caroline was so helpful and kind, even bringing us candles and a lace tablecloth when we dined in with Angela's Gourmet Kitchen (which was also brilliant). She met us at the airport and also kindly escorted us back as we had a lot of luggage and medical equipment. You really couldn't ask for a better host or villa. We loved it and hope to return when we can. Thank you Caroline. xx
by William Blackburn
Caroline's Casa Bele Vista
Casa Bele Vista certainly lived up to it\'s billing. A quiet area outside the town of Almancil, a car is essential, I recommend AutoGem car hire. Caroline is a superb host and will do almost anything to make your break/holiday a success. She even did our shopping prior to arrival....thank you Caroline From Bill, Mark, Sally and Anatol. PS. Caroline can\'t guarantee the weather, but anything else potugese she is your oracle March 23-30th 2013
by Janet
Excellent villa for wheelchair use
We booked directly with Caroline the owner and the five of us stayed for a week in April. I have a heavy powered wheelchair and was pleased to find Casa Bela Vista spacious and easy for me to get around, with ramps wherever necessary. Large kitchen, and big sitting room with comfortable armchairs, TV, music and books - though we were outside most of the time. The swimming pool was very tempting (though in April still too chilly for us to venture in). Breakfast on the terrace by the pool every morning in sunshine was idyllic. We used the 3 big bedrooms. In my room there is plenty of space for the standing hoist (rented), and Caroline had installed a grab handle over the bed for me to use ?óÔé¼ÔÇ£ very thoughtful. The en-suite bathroom was also spacious for the standing hoist (as above) and shower chair (provided). The villa is only 20 minutes from Faro airport, in a great position on a hill with views from the terrace of countryside, villas and the sea in the distance. It?óÔé¼Ôäós only a few minutes drive from Almancil with a choice of several good supermarkets ?óÔé¼ÔÇ£ though too far to walk or use the wheelchair so it?óÔé¼Ôäós essential to rent a car. Caroline was really helpful with the transfers to/from the airport with the powered wheelchair; hiring a standing hoist; and helping us with car rental. She arranged for a Fiat Doplo (delivered to the villa) spacious enough to fit the manual wheelchair in the boot. We couldn?óÔé¼Ôäót rent a car to take the powered wheelchair. We sampled beaches and cliffs including the accessible beach at Quarteira (with promenade) and (further afield) the lovely Praia da Marinha (great views from the picnic site on the cliff top and extensive cliff walks for the family). At Zoomarine park 3 of the family swam with the dolphins (an unforgettable experience). Vilamoura with its smart marina and restaurants was also accessible. All thanks to Caroline as our host and for her local advice. We had a great relaxing holiday and plan to return!
by John and Pauline from Hampshire
Delightful Villa
This Villa is beautiful and exceptional. Not only is it large and spacious but the owner made every effort to ensure our stay was easy and peaceful. The owner (who was on hand whenever we needed local guidance or advice) has also ensured that there is an exceptionally good level of wheelchair disabled aids and other access systems.I would thoroughly recommend this delightful Villa to anyone without hesitation.
by Marion from Hampshire UK
Brilliantly Accessible Villa
We booked this Villa direct with the owner, Caroline. From the outset it was very clear she cannot do enough to make your holiday a comfortable and accessible stay. From the reassuring emails before we arrived that helped to set up car hire (essential), a hoist for the pool (a key facility for me), food shopping so we had something for the evening of our arrival. If you need anyhting while you are here, she is discreetly on hand. She is also a mine of information for local restaurants, beaches, fishing and golf etc. The Villa itself is really well equipped for wheelchair users, with sturdy ramps, roll in shower, wide doors and large rooms that make it easy and comfortable to move around. If you need any additional equipment not kept at the Villa, then Caroline will relish the challenge of sourcing it locally. The Villa is set in a beautiful area on a hill, just outside Almancil, with grand views right to the coast. It is a short drive to local amenities and visitor attractions. Many thanks to Caroline, we all had a fabulous holiday, fun, relaxing and good memories. Our first visit, hopefully not our last!!