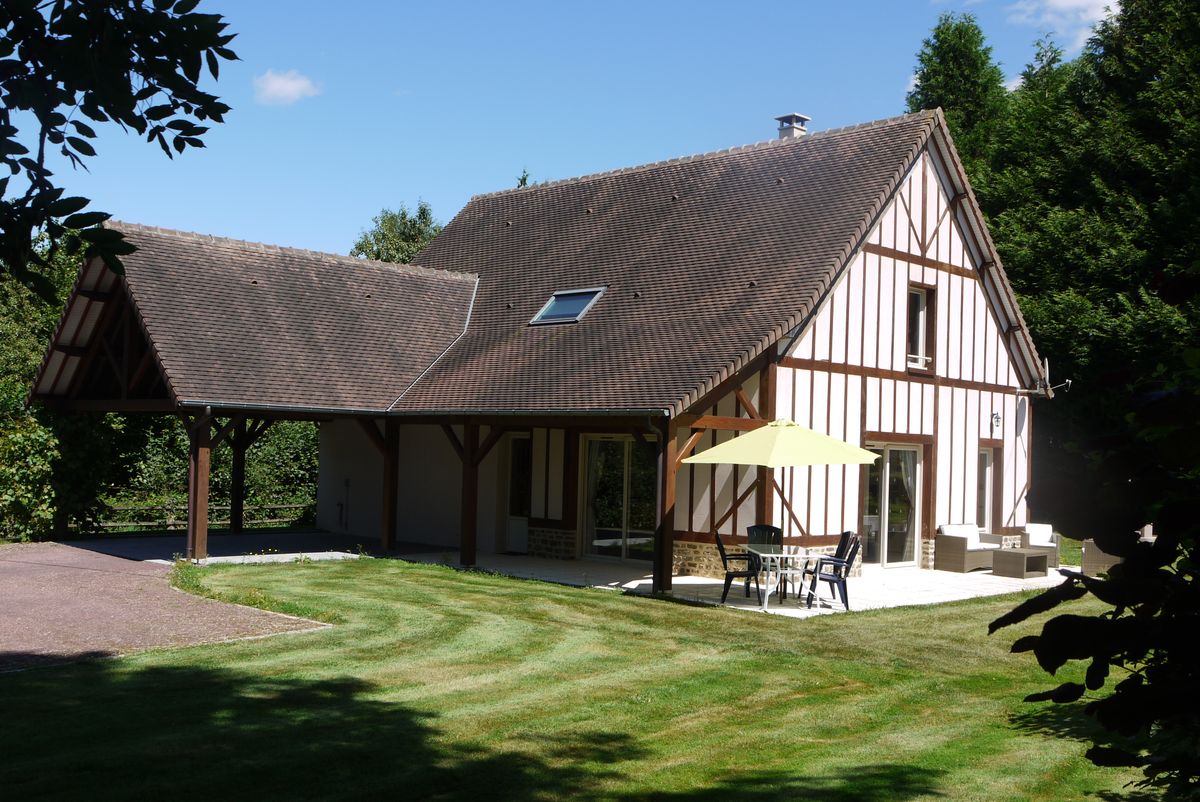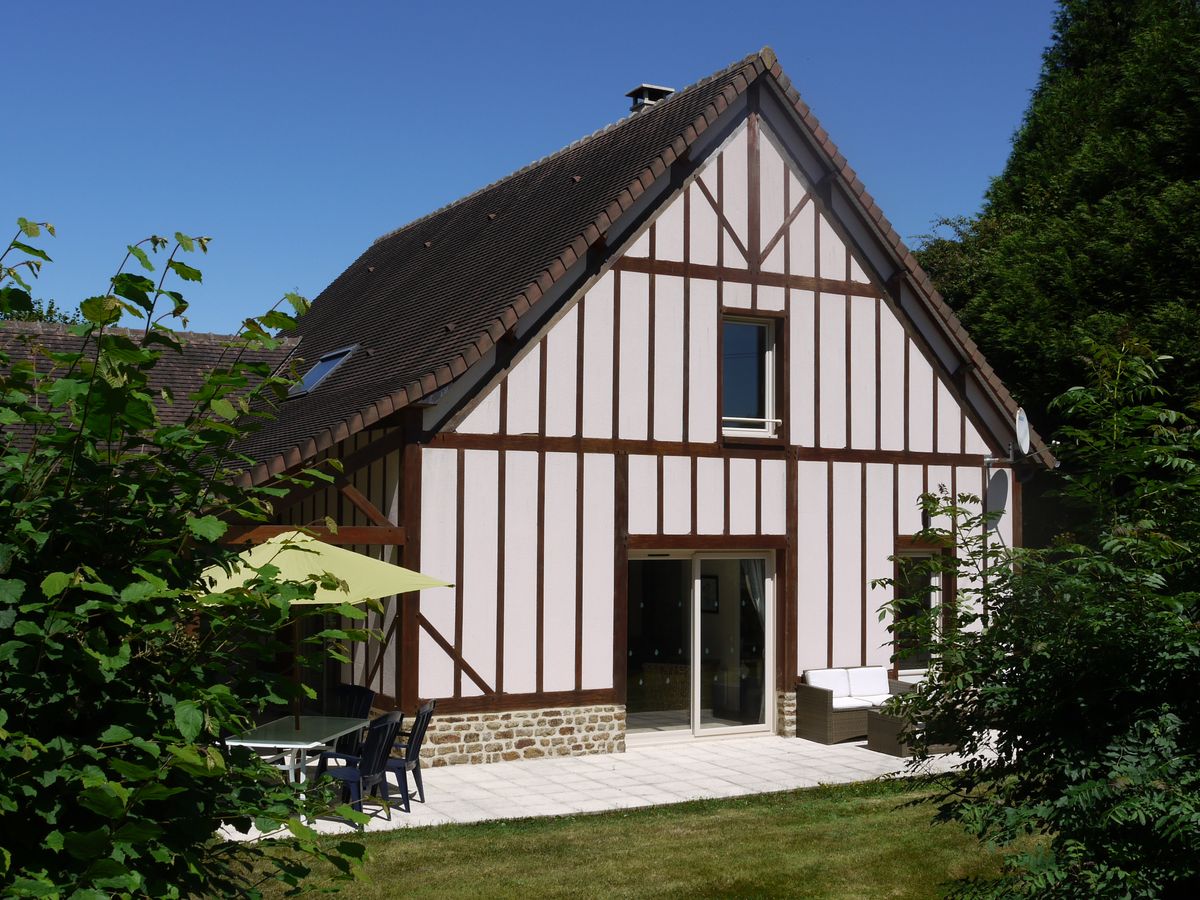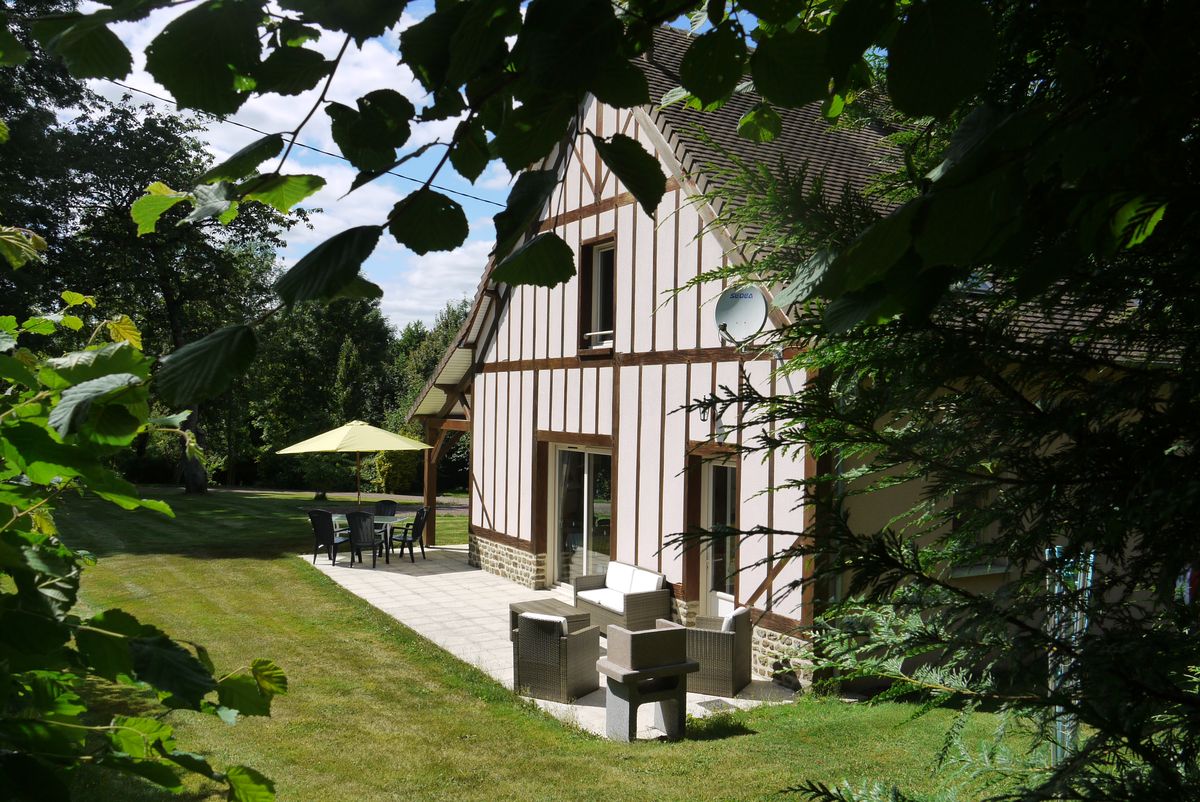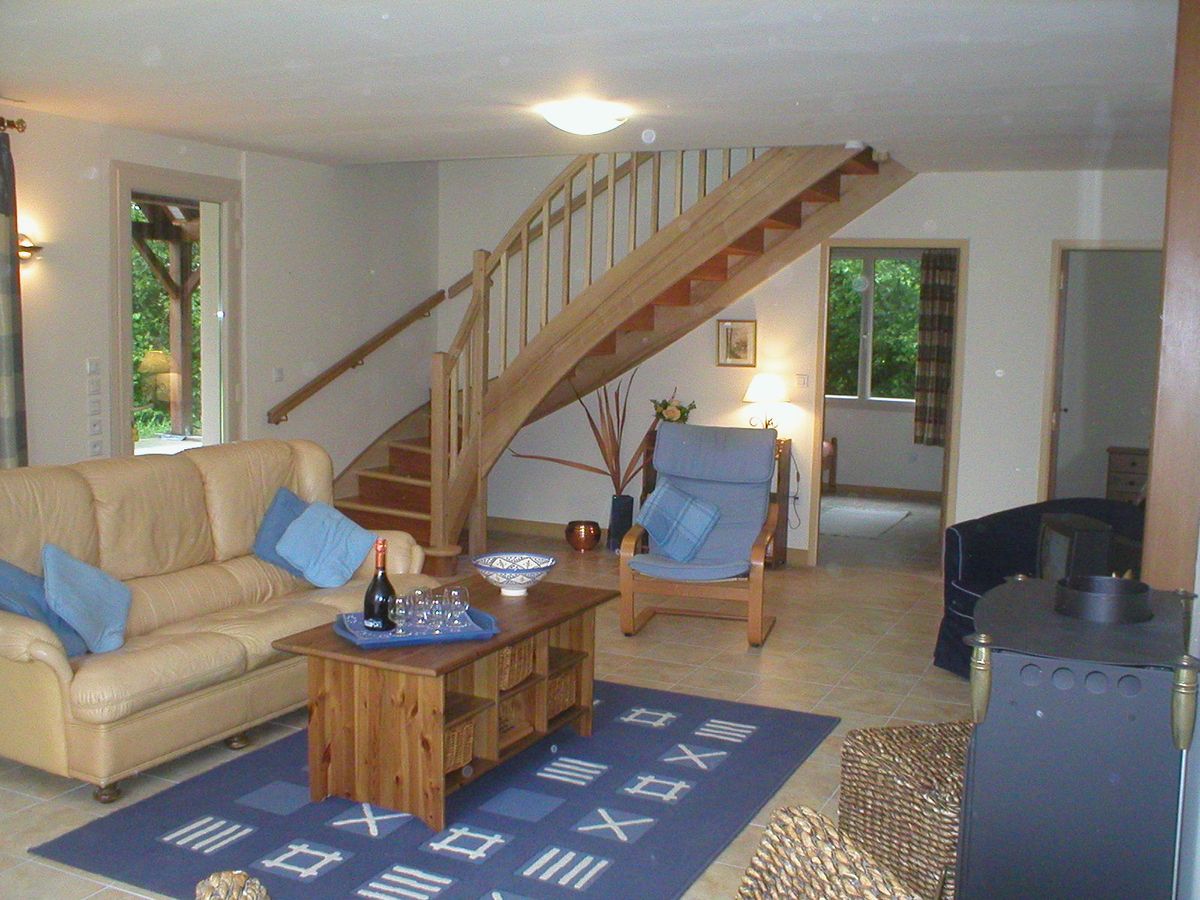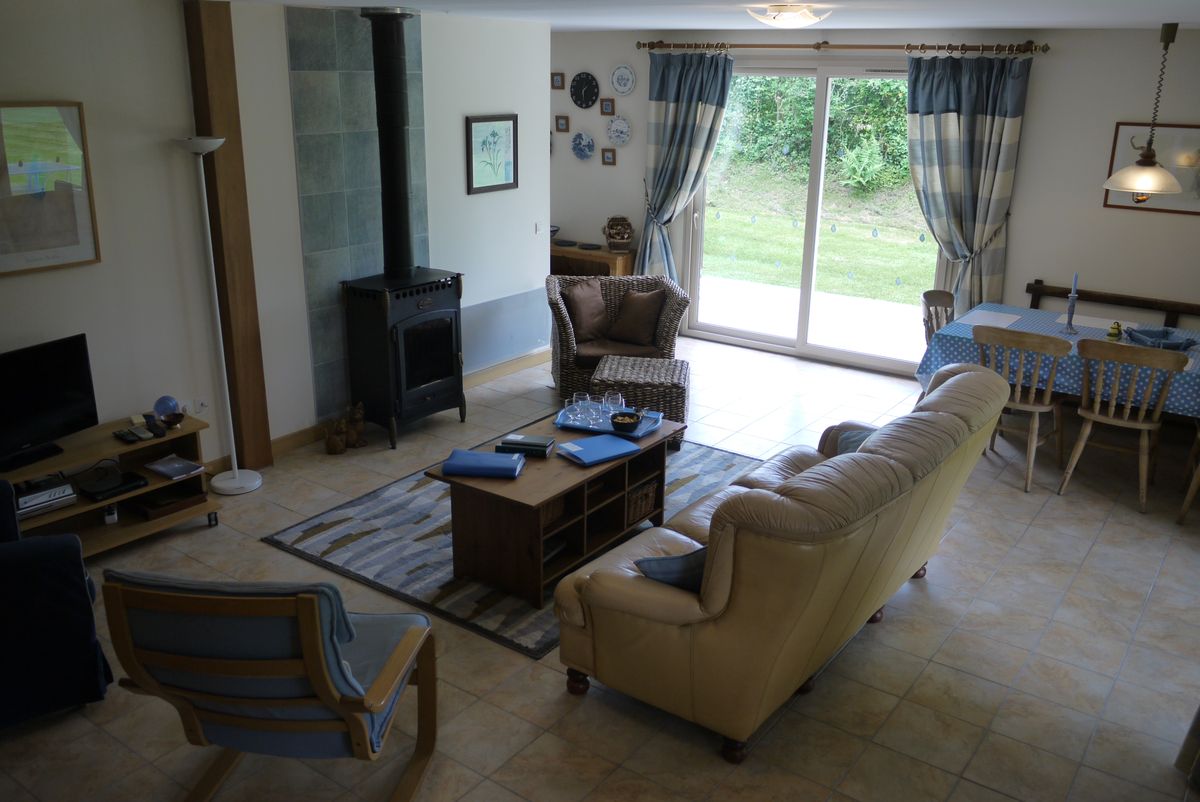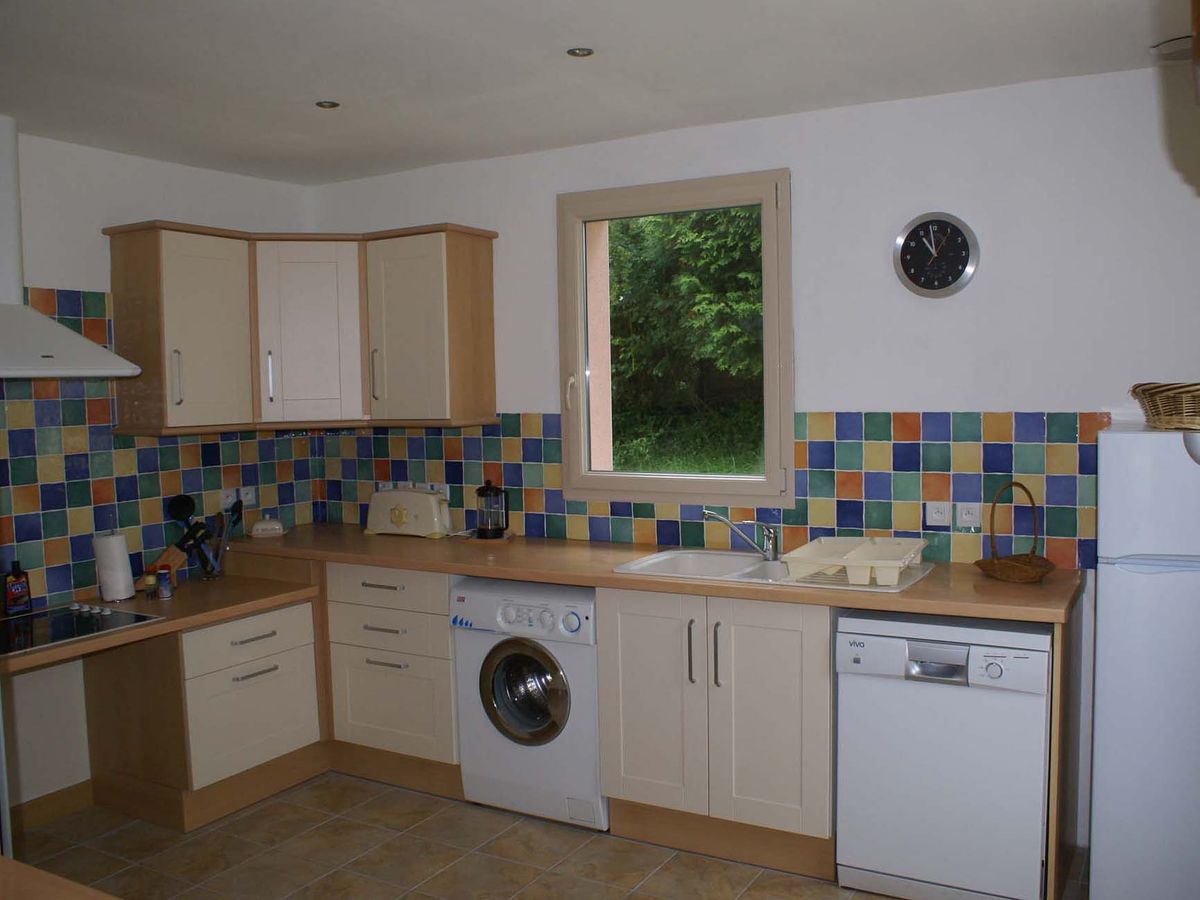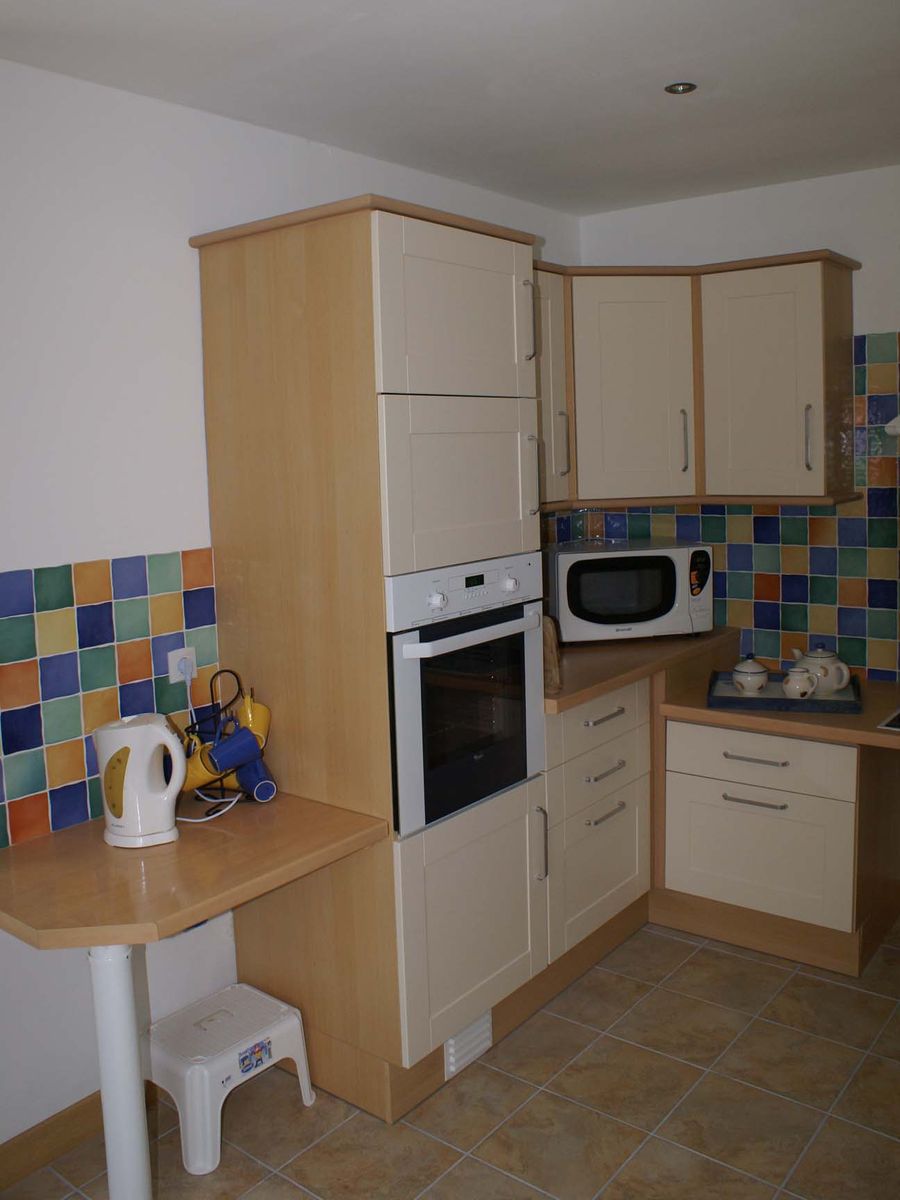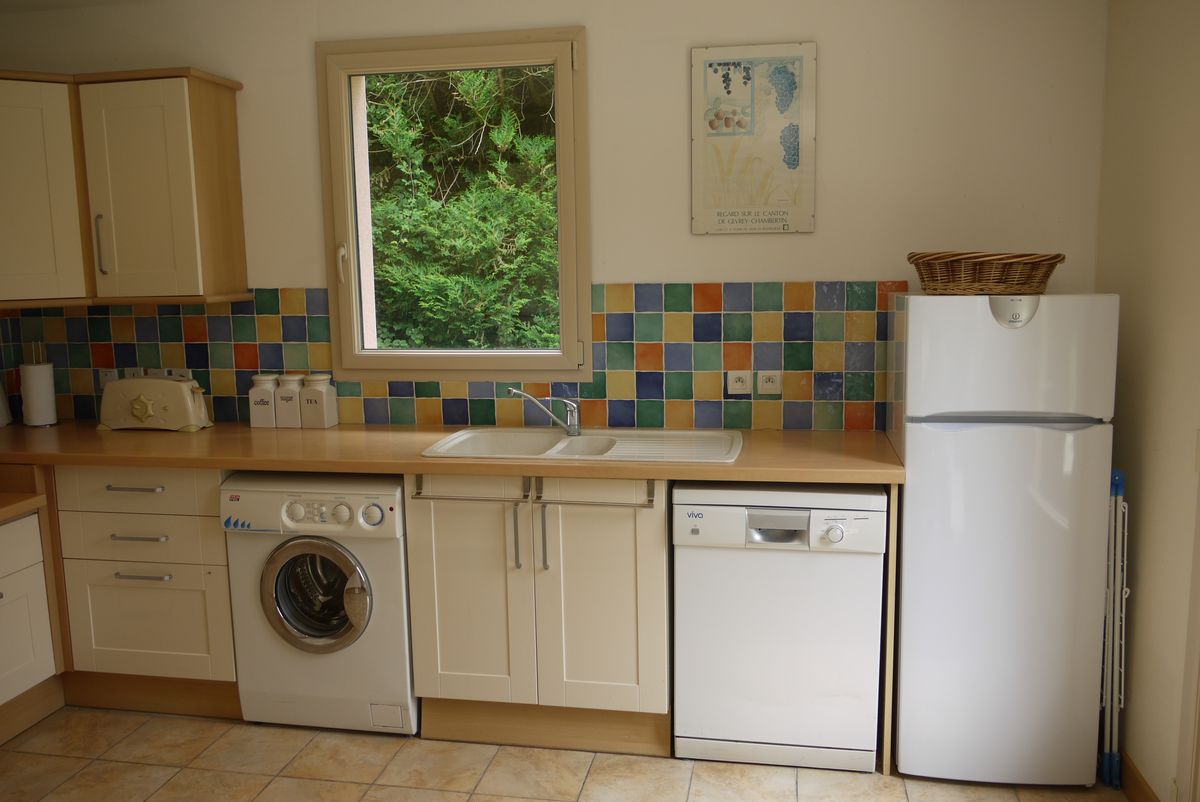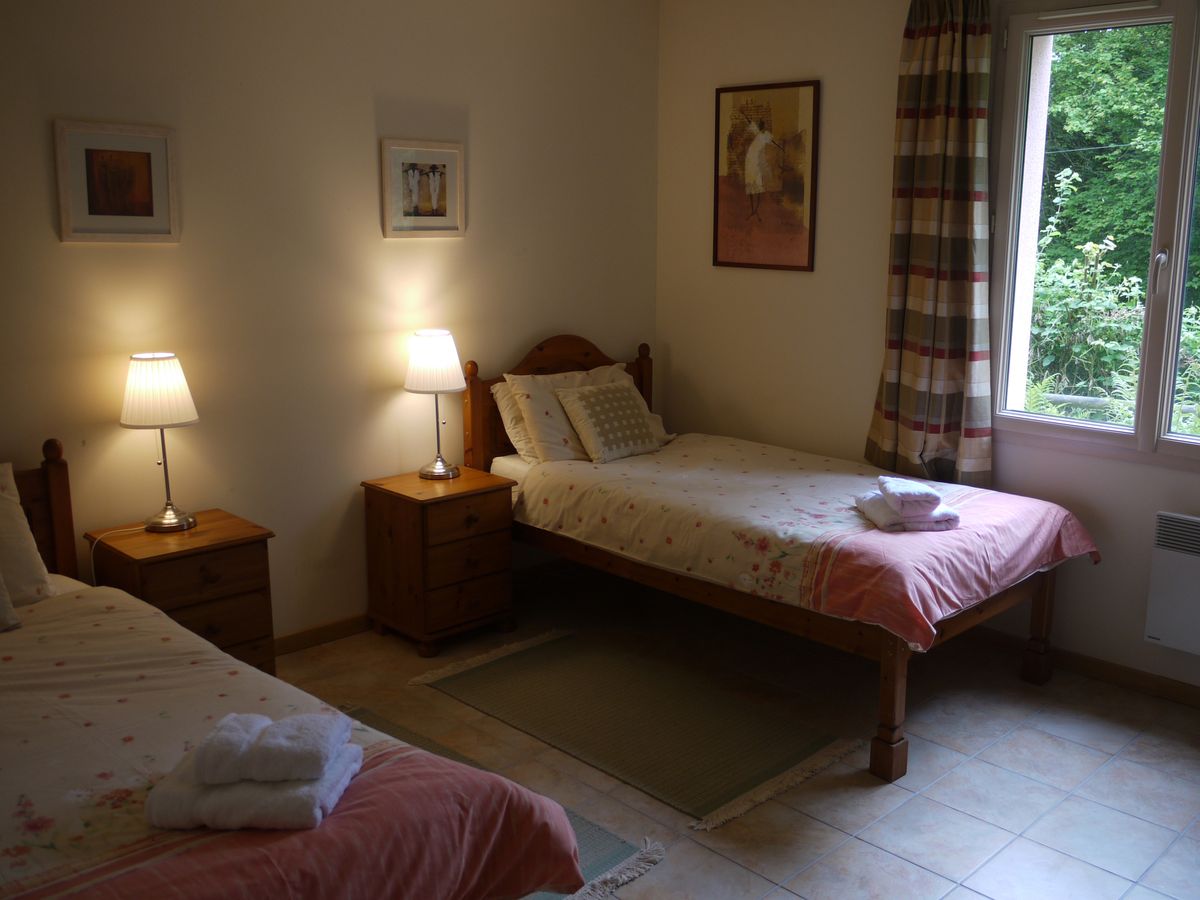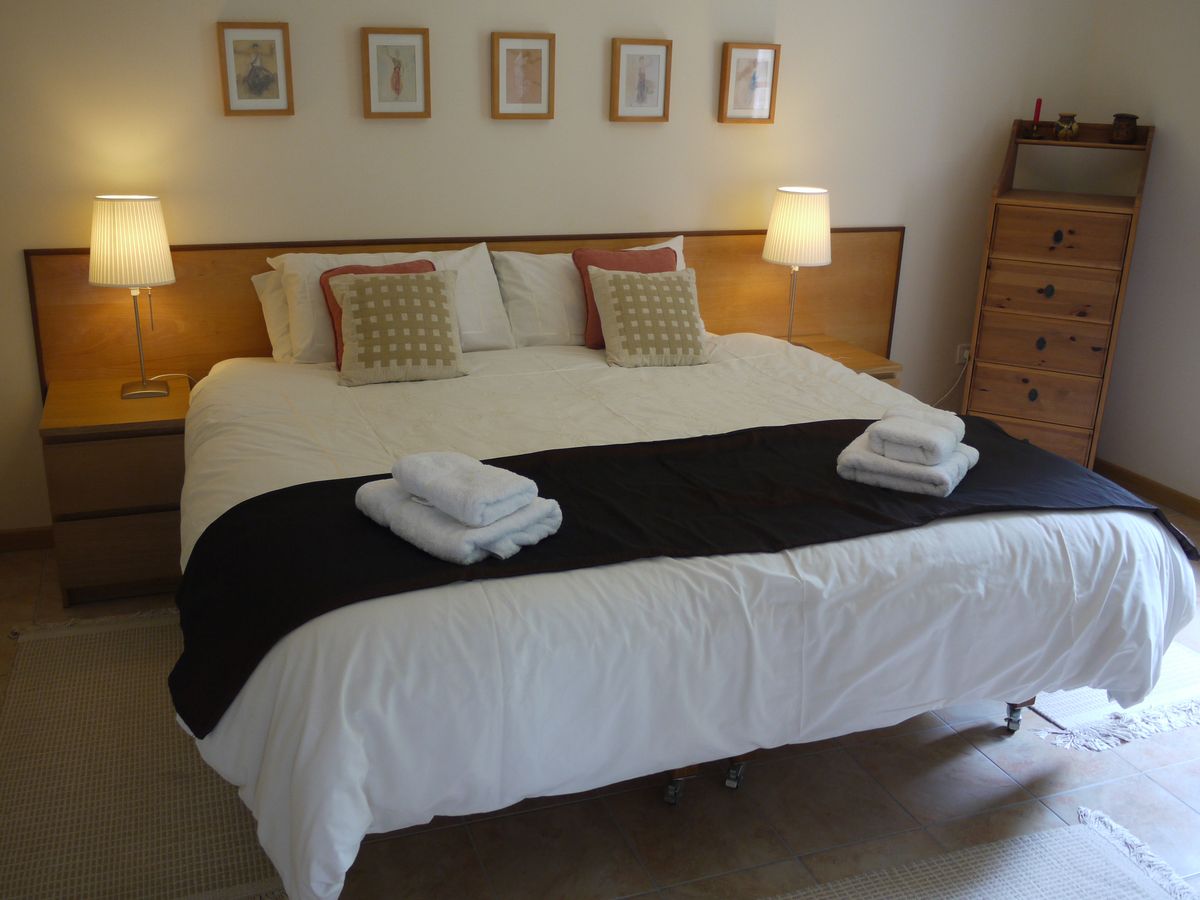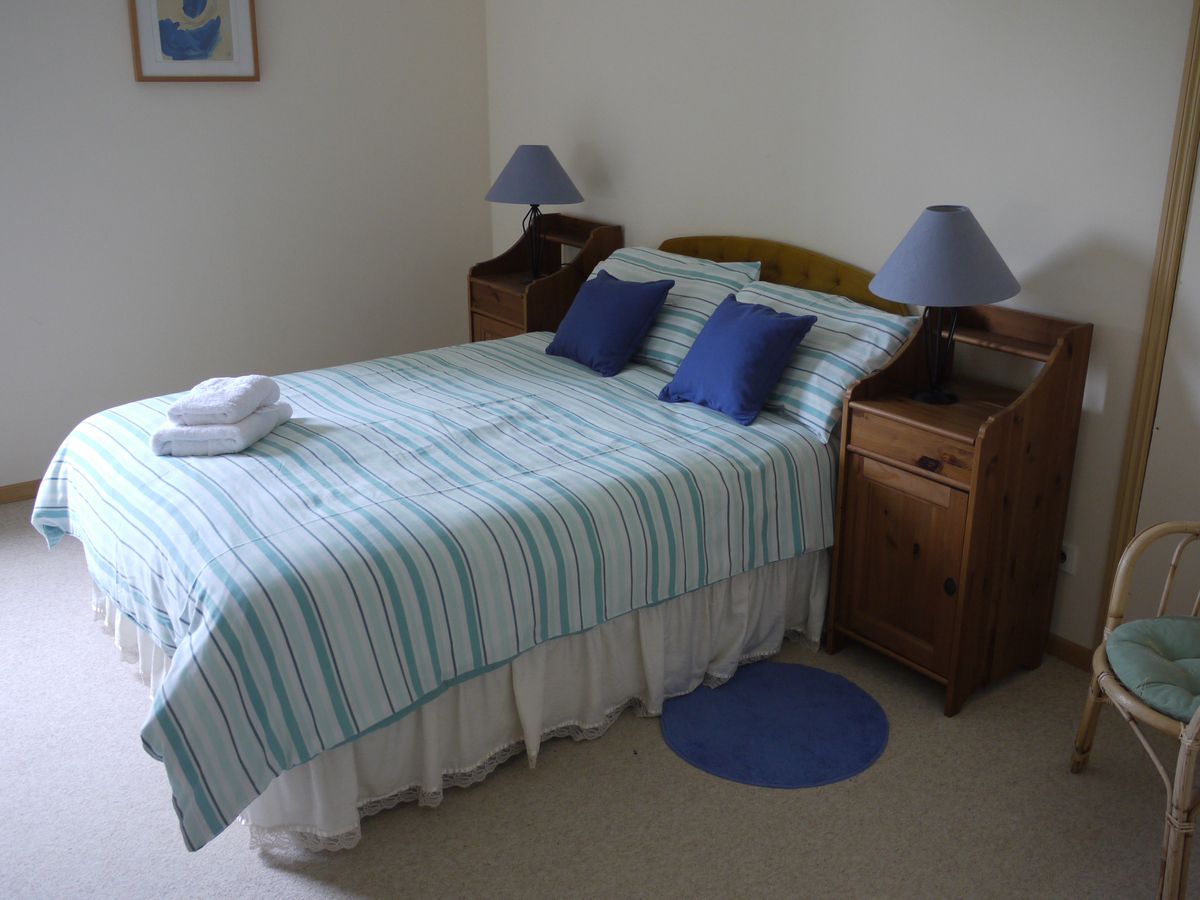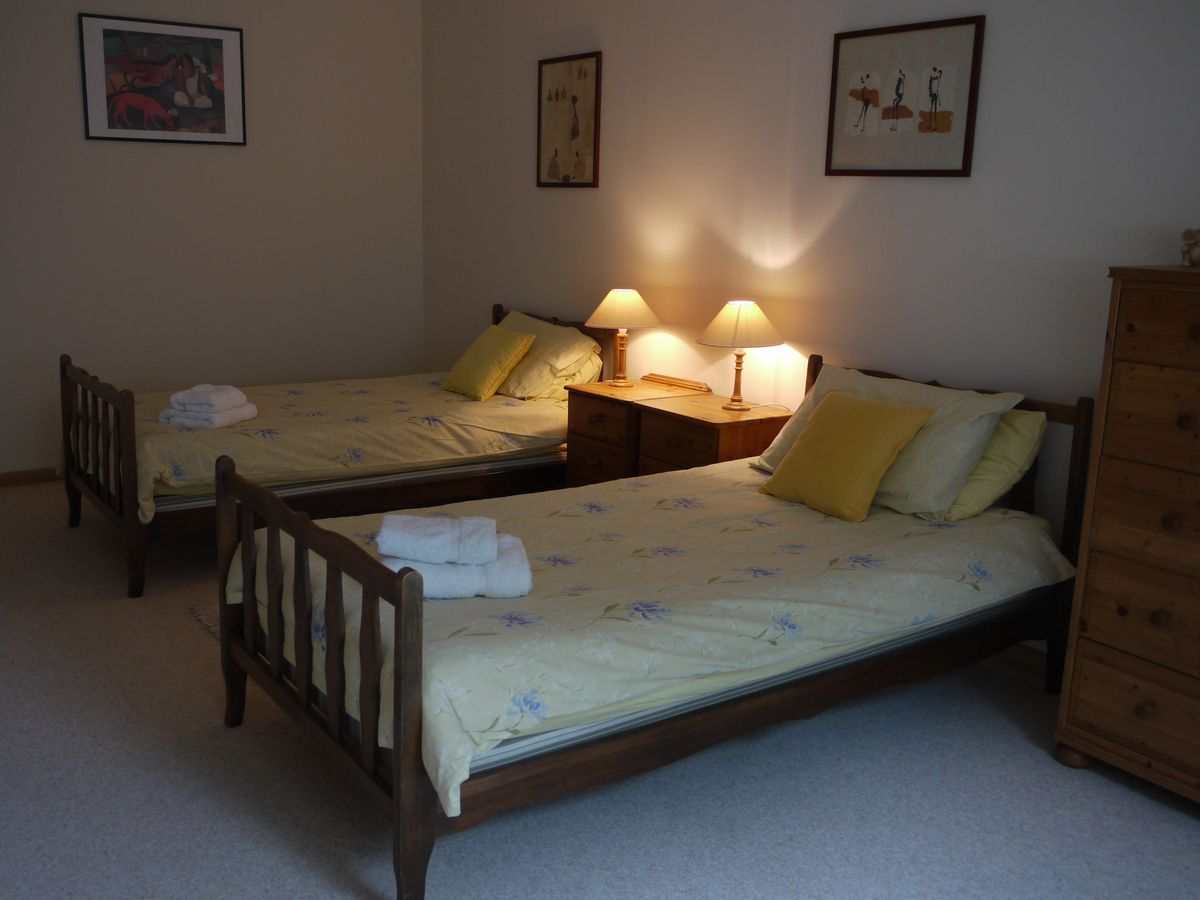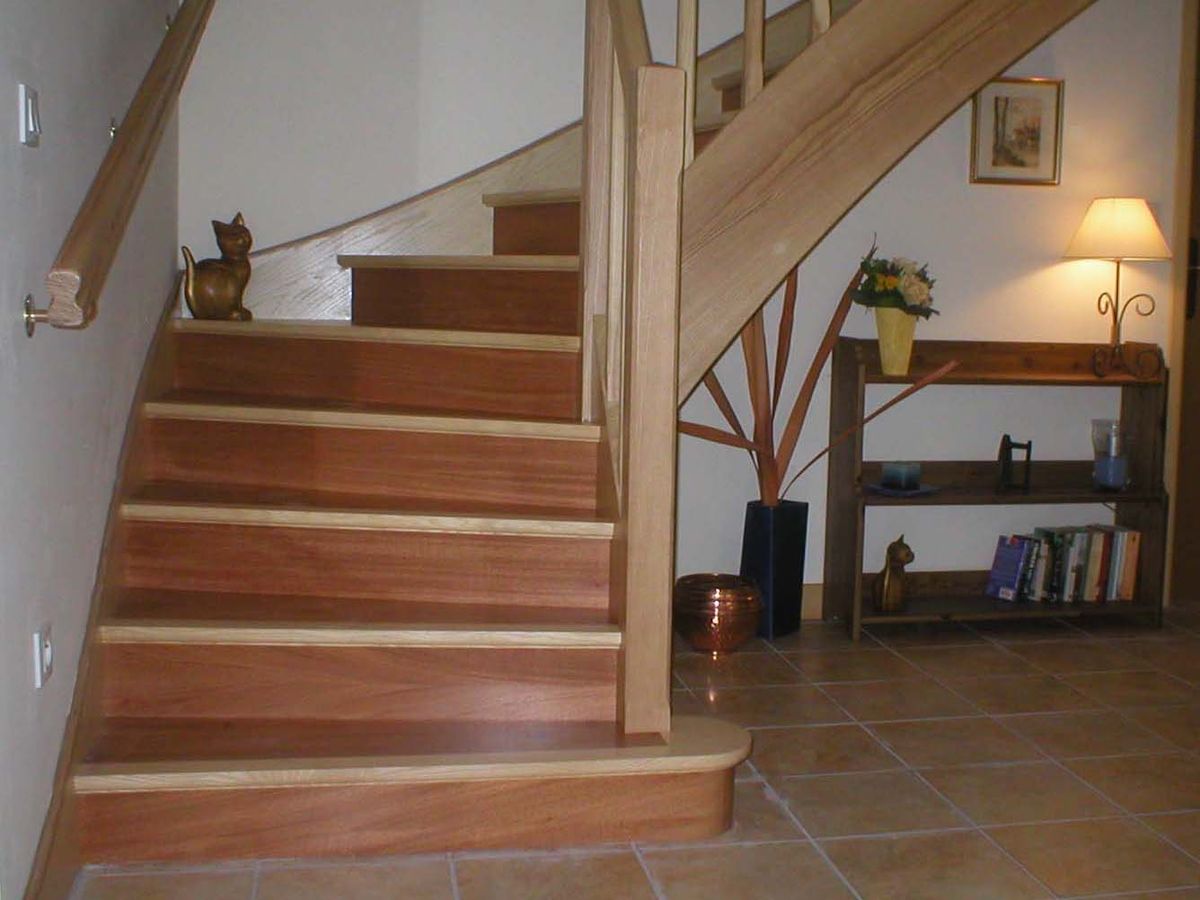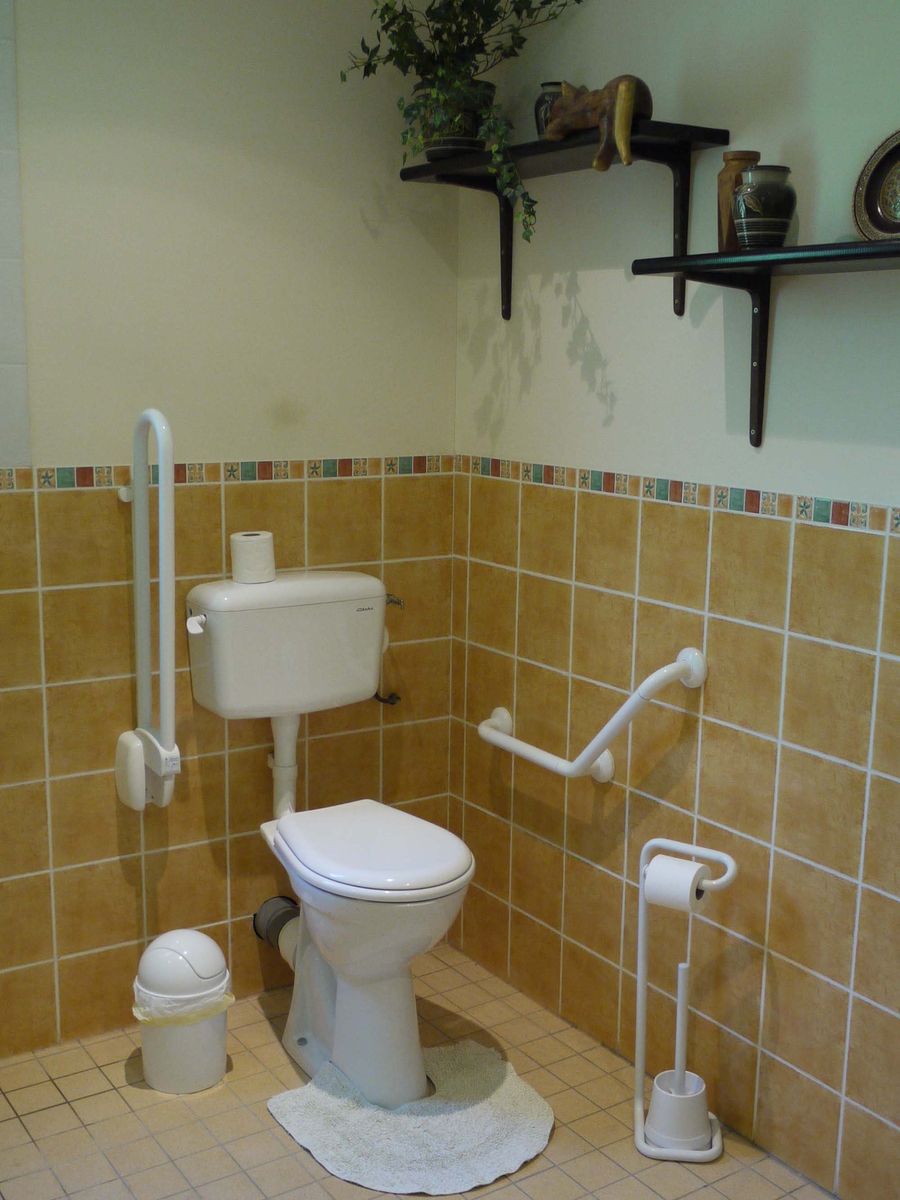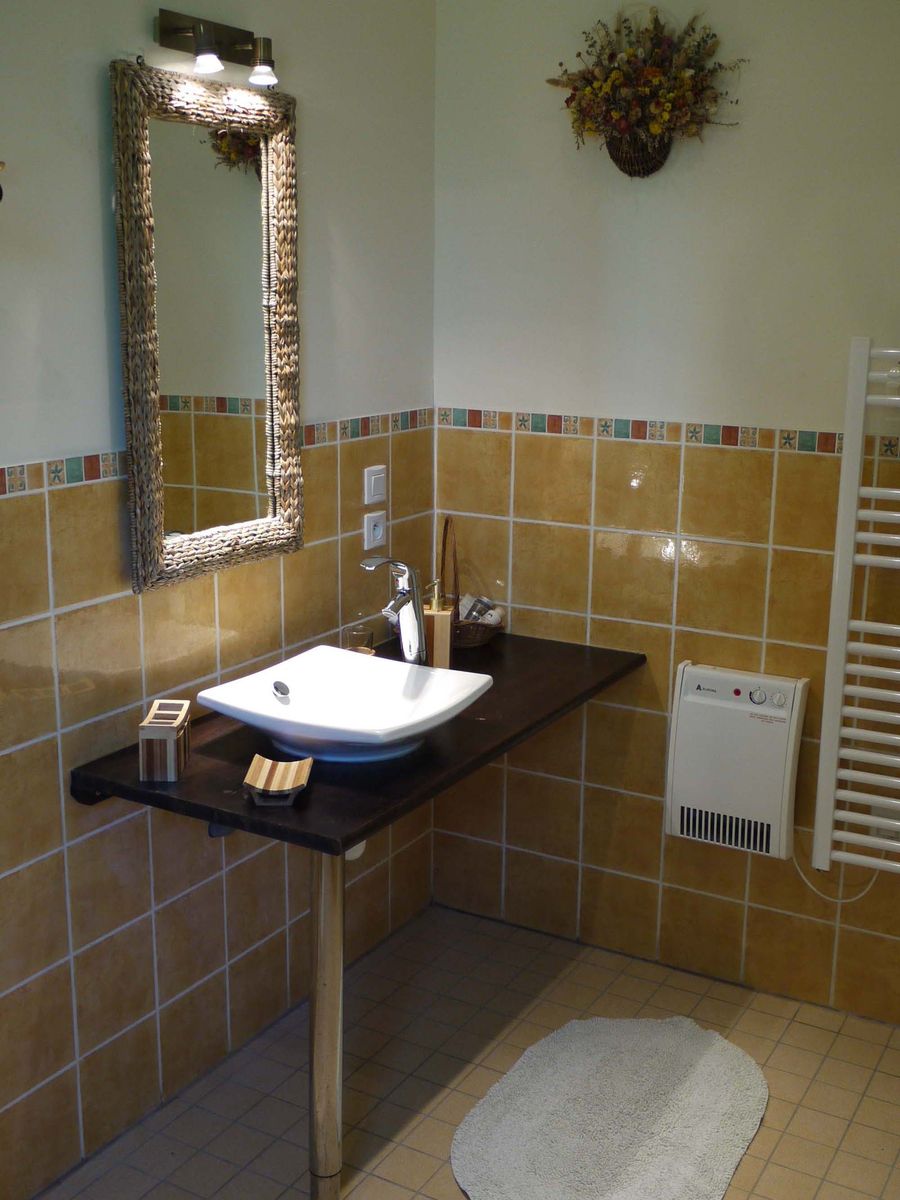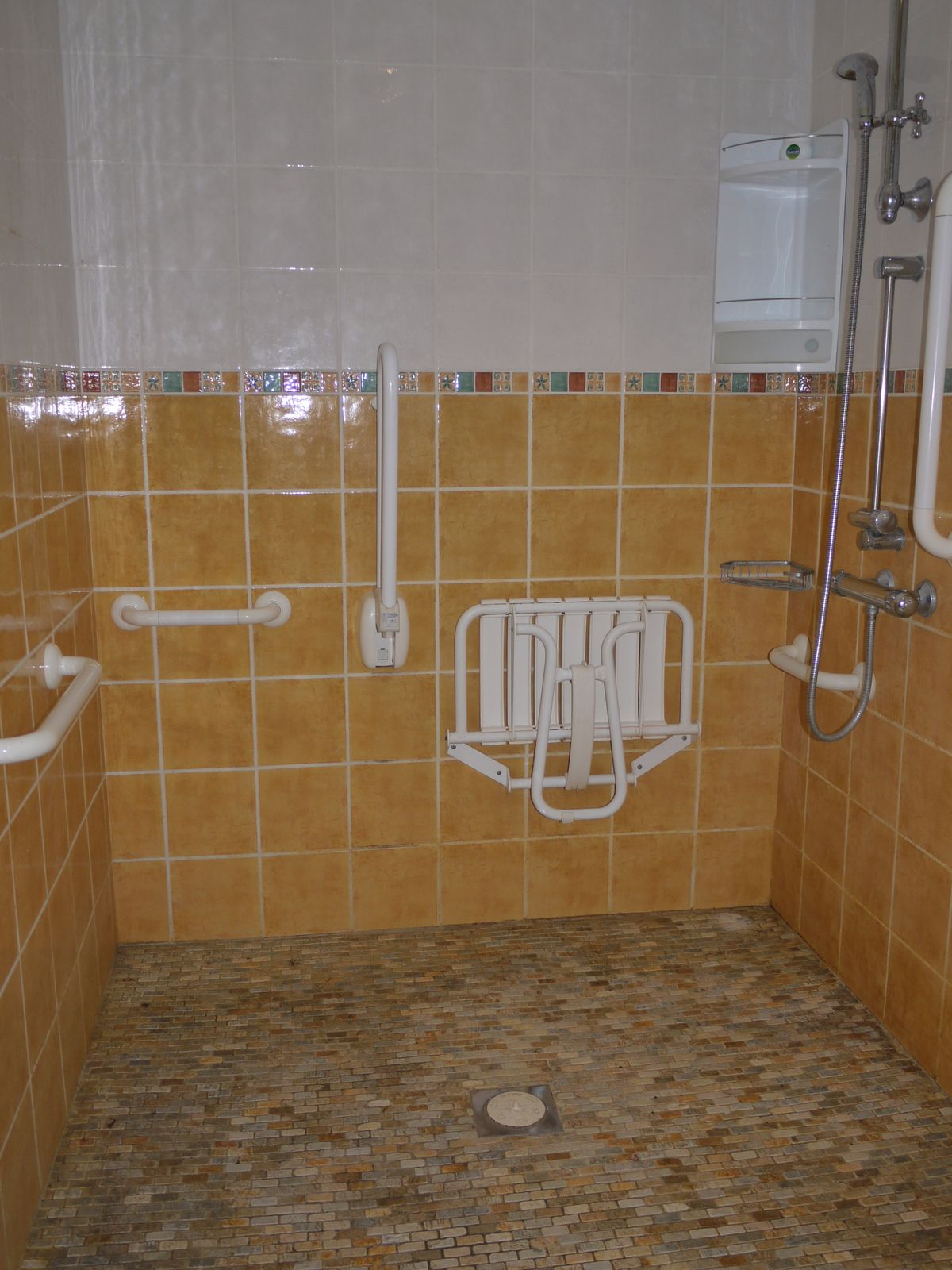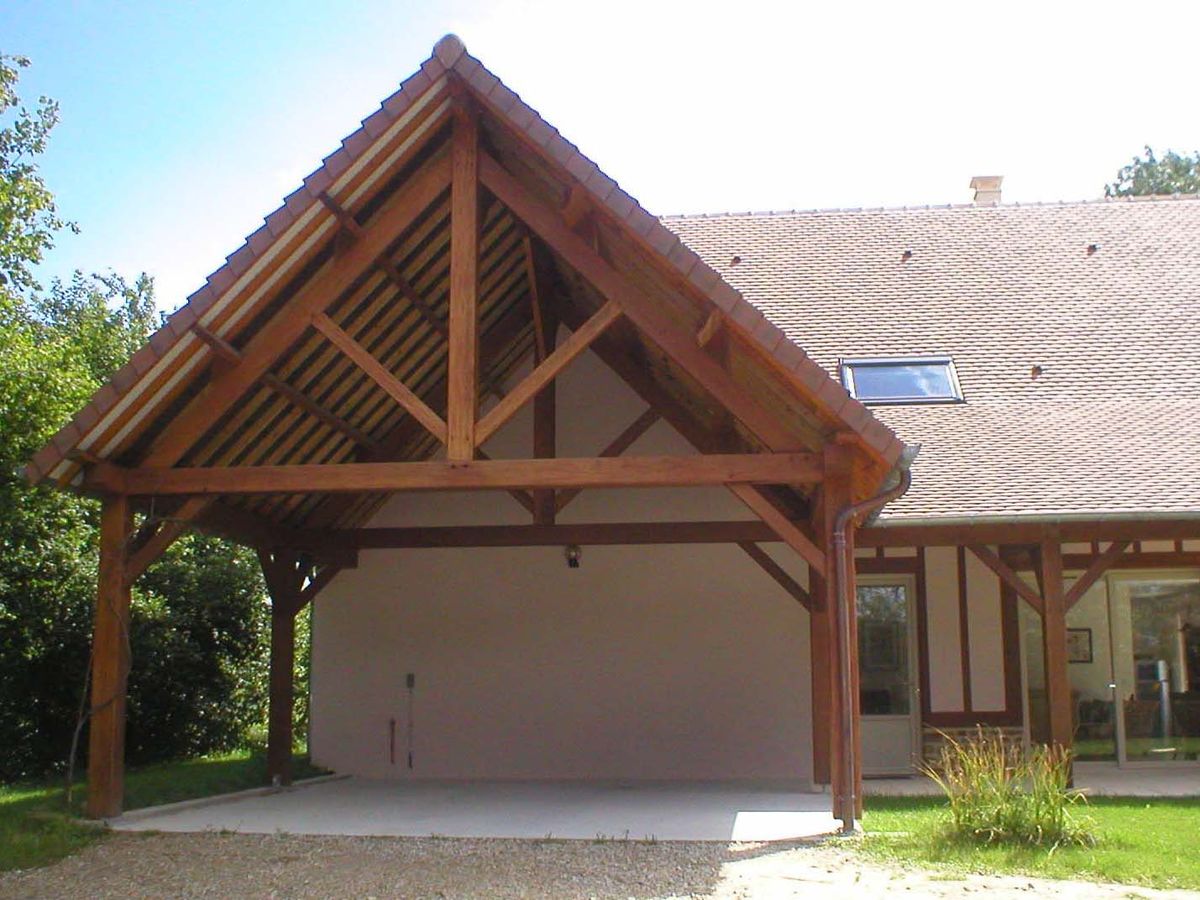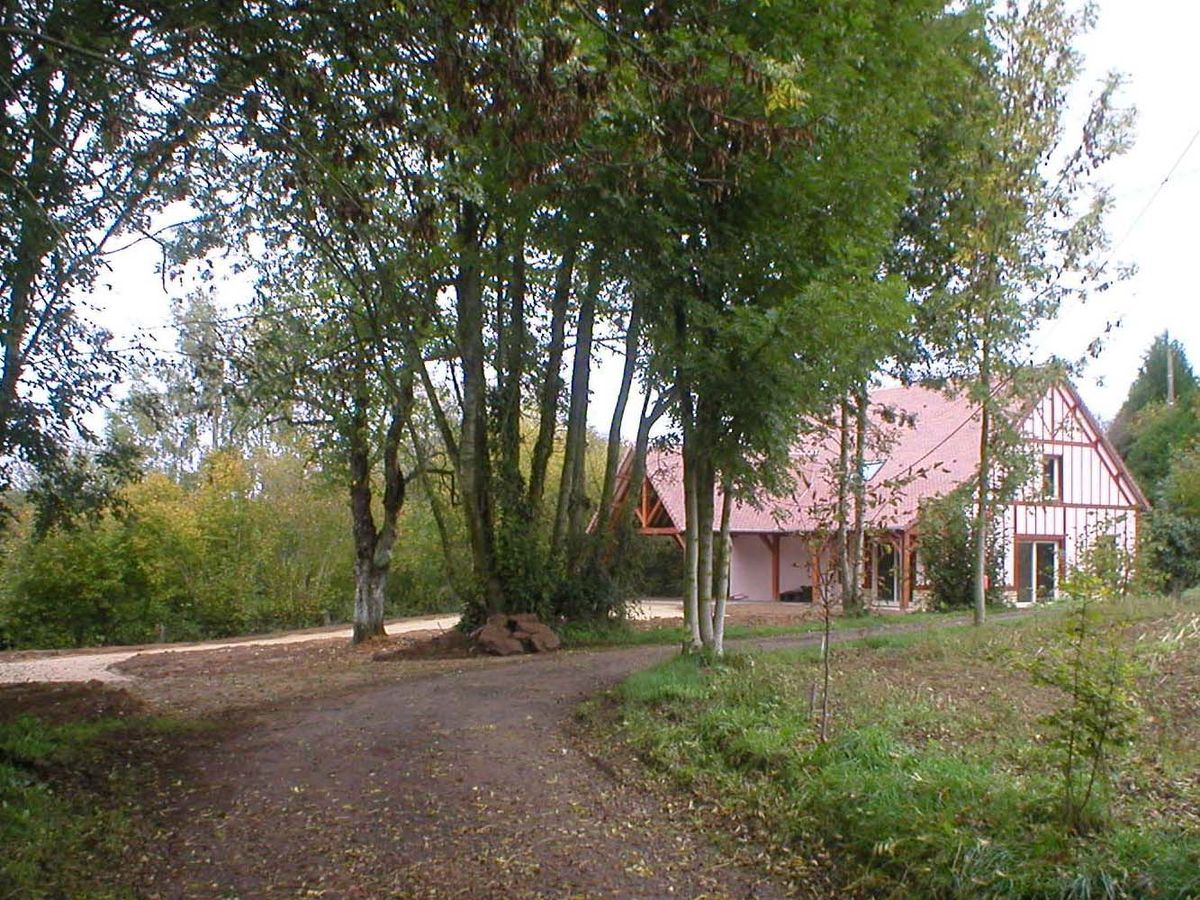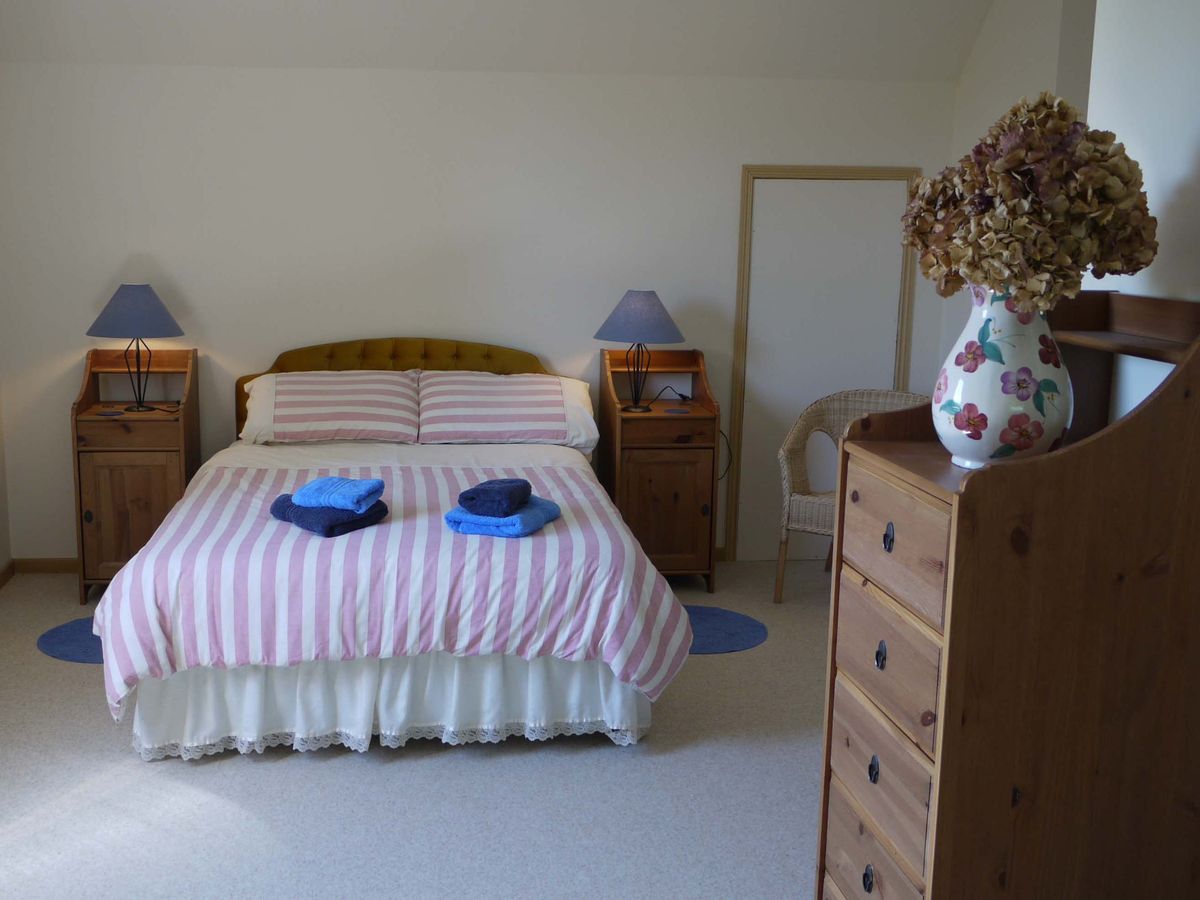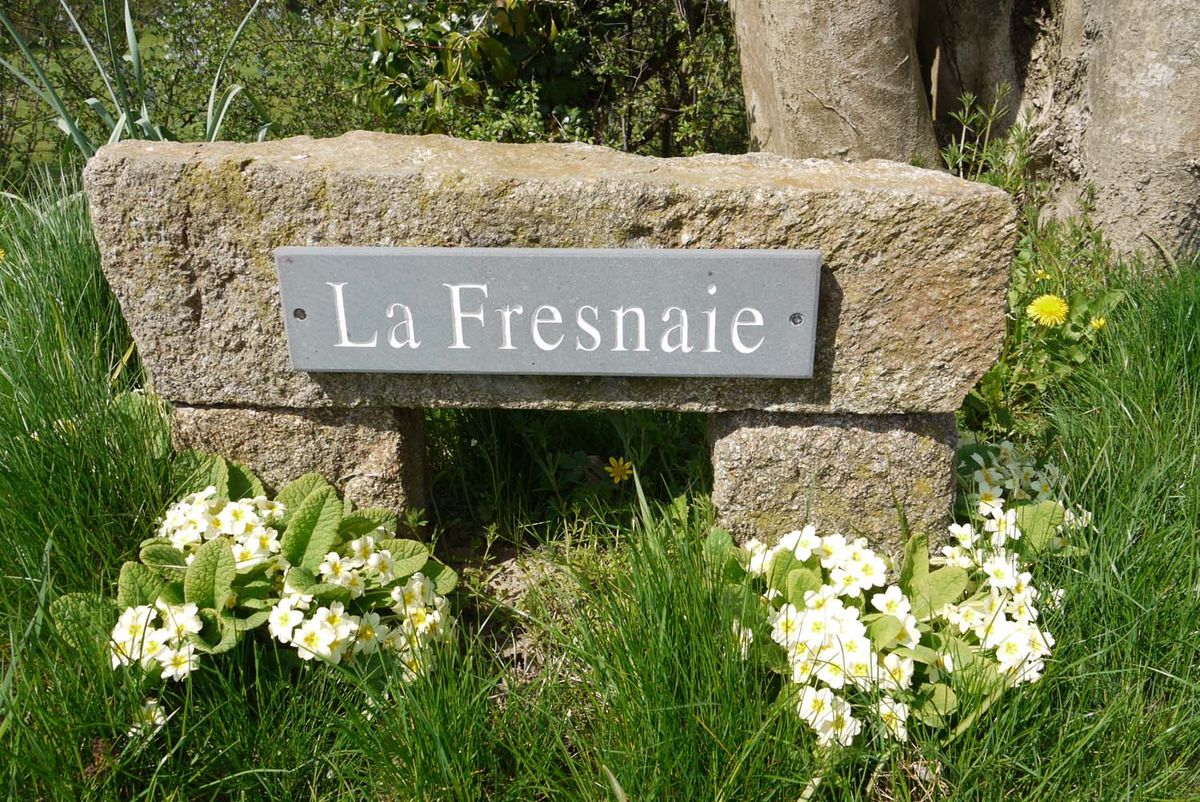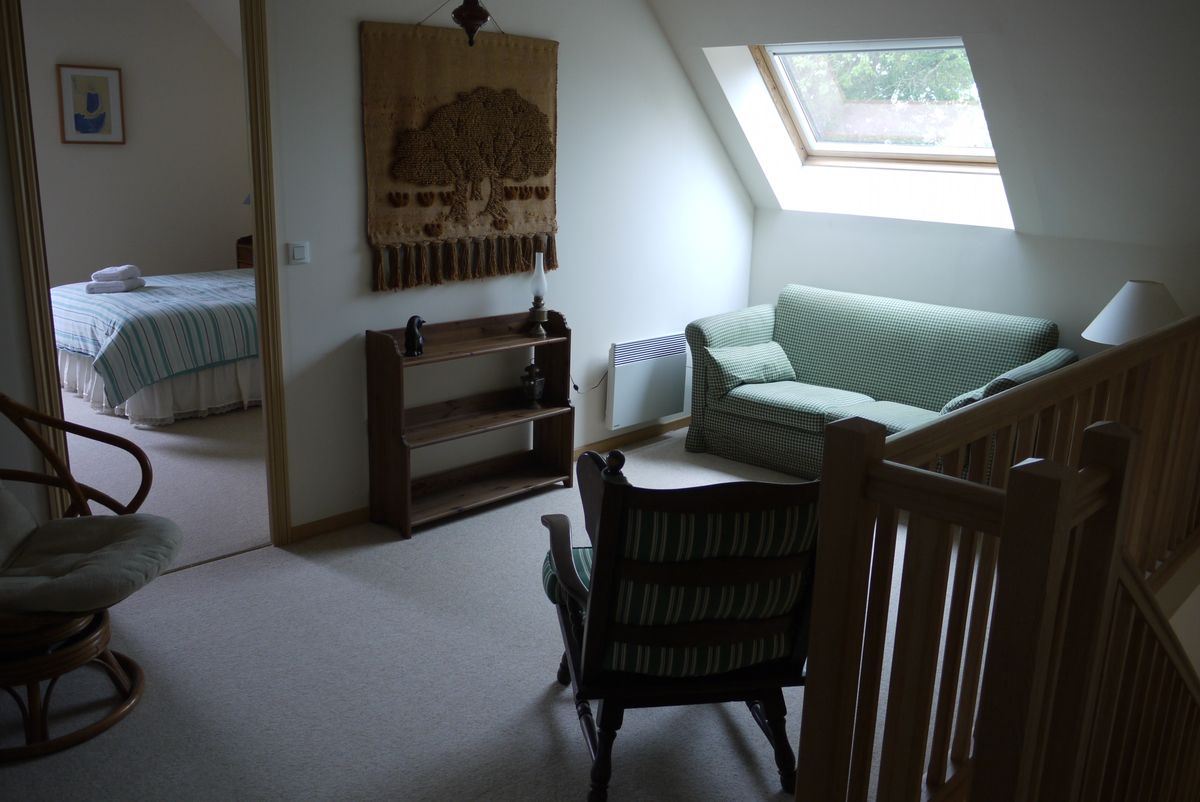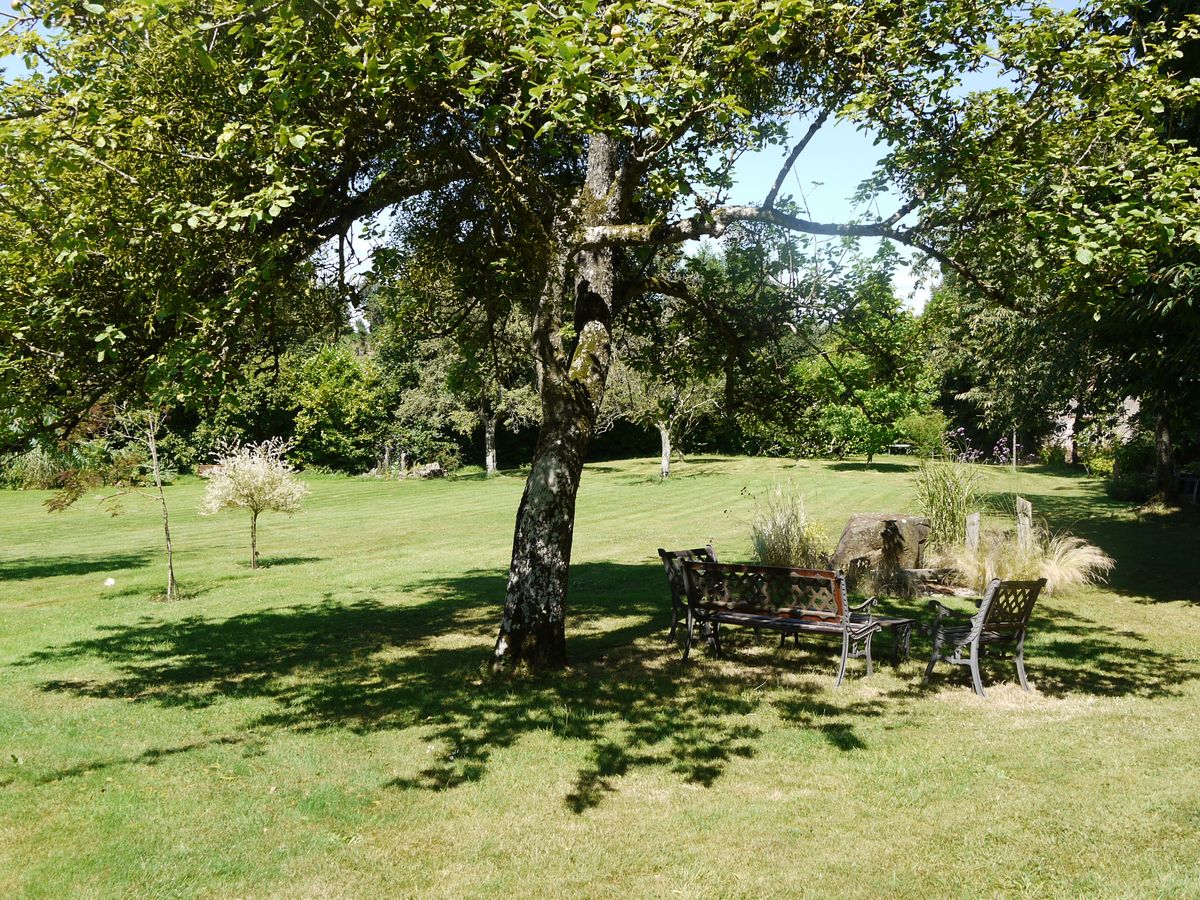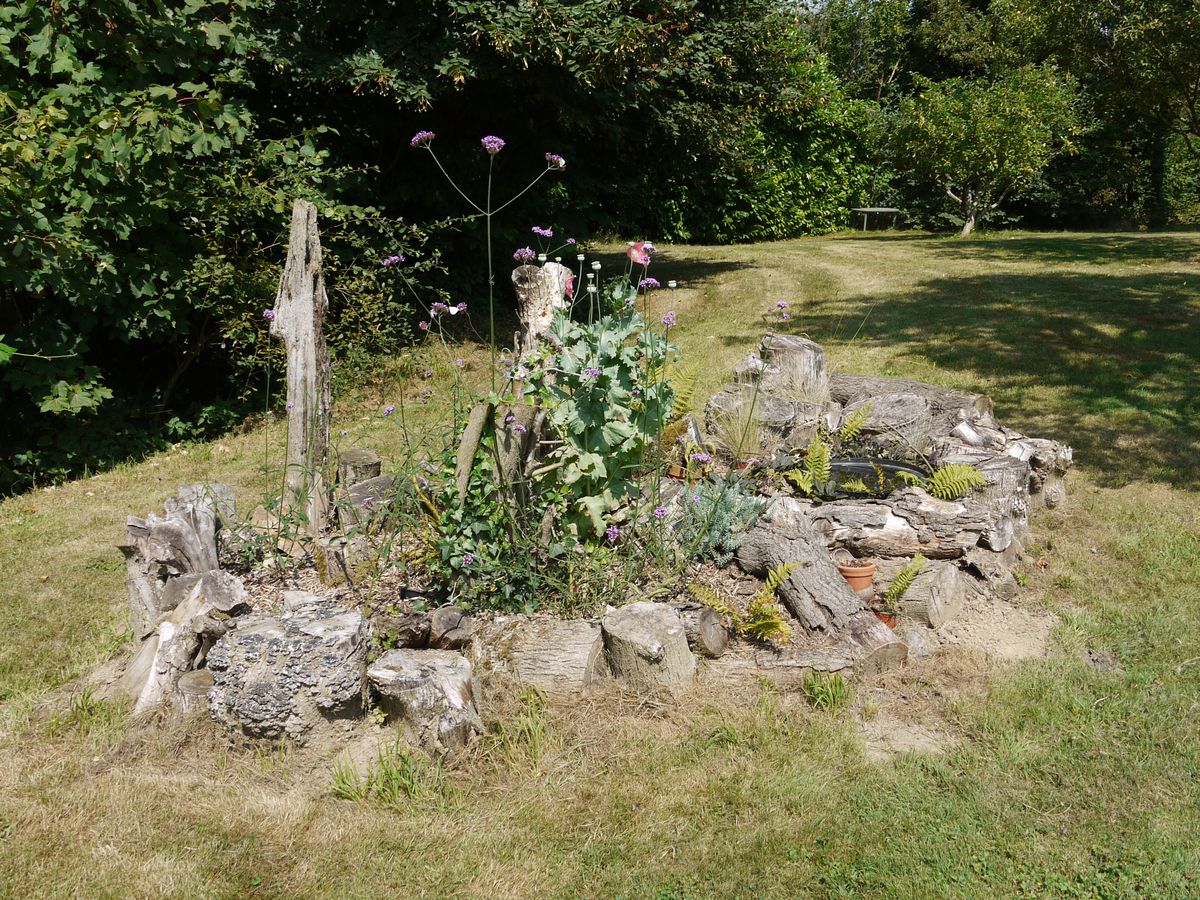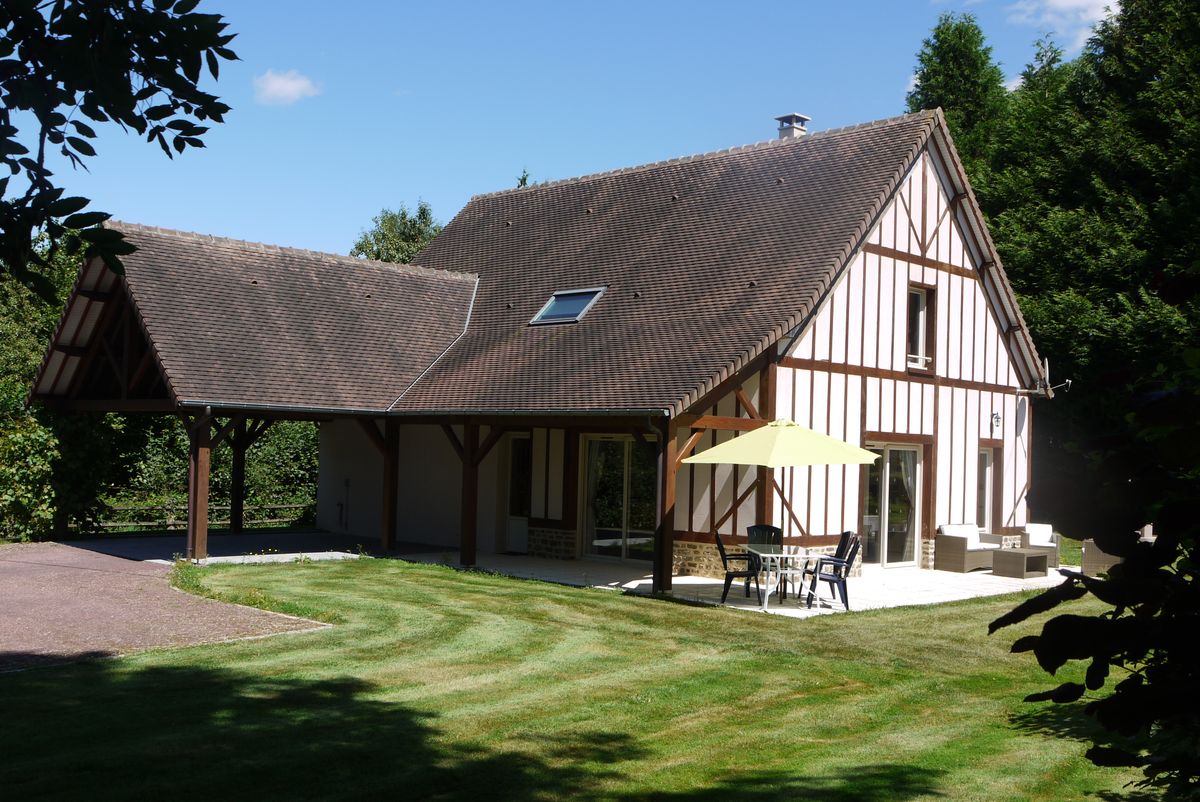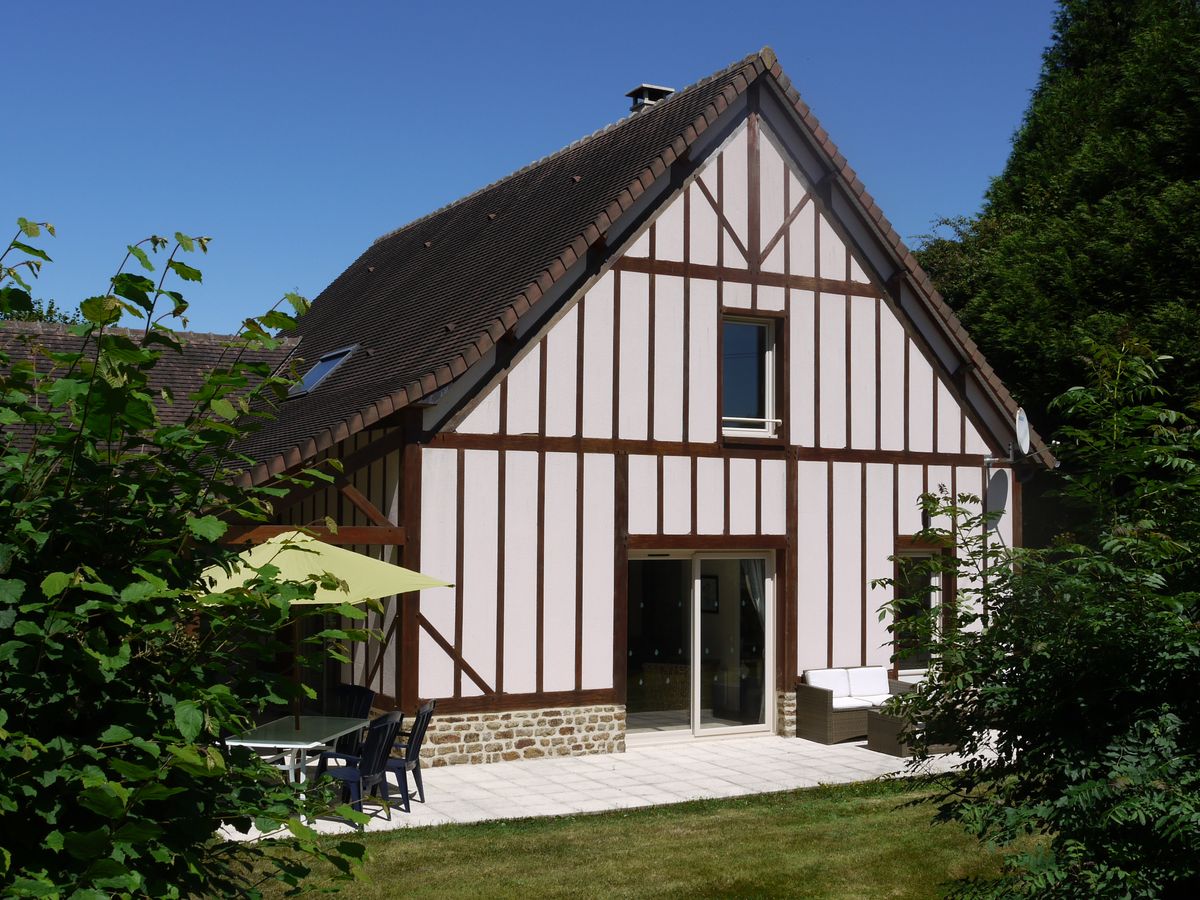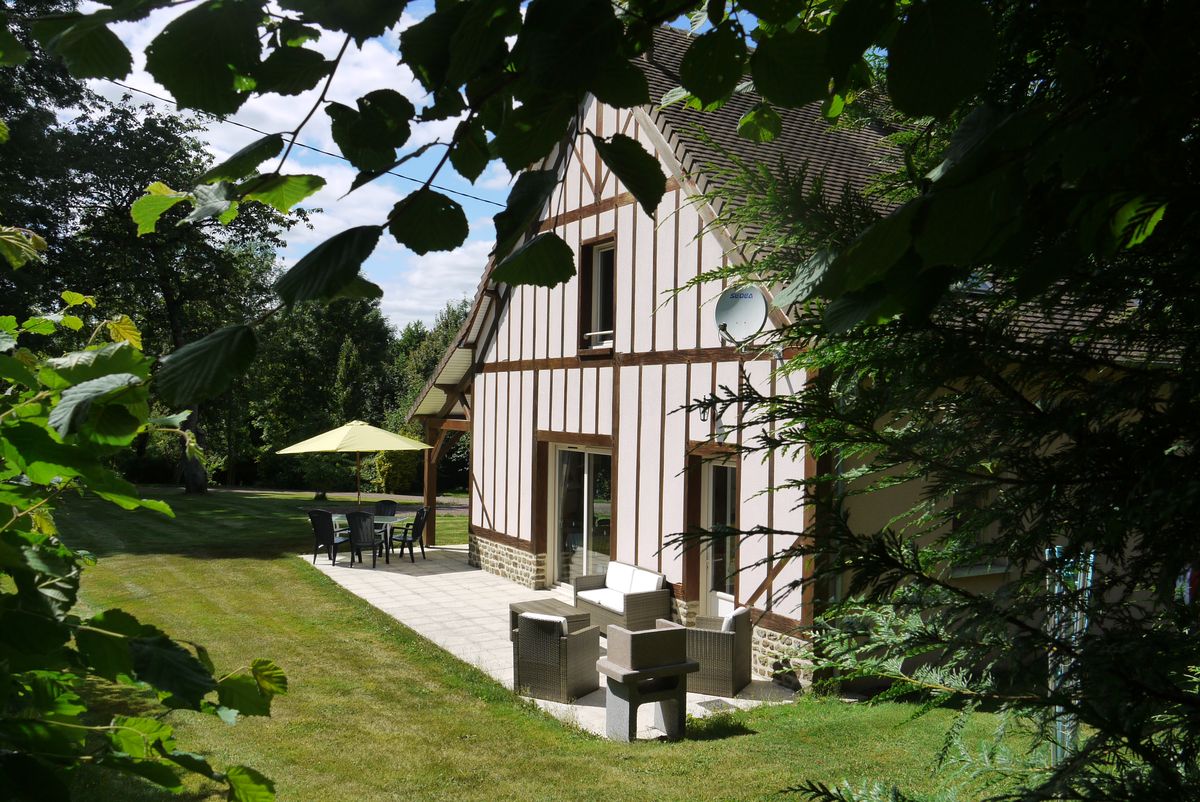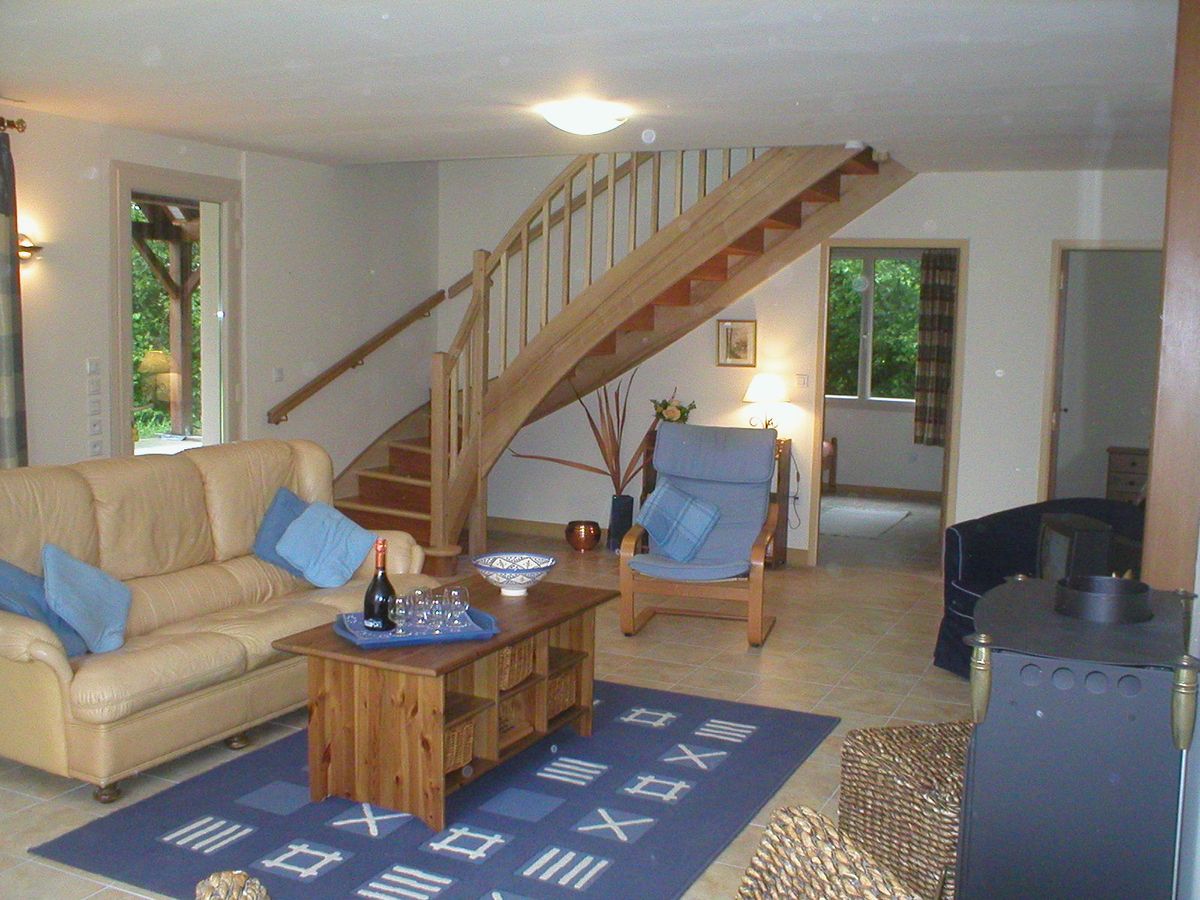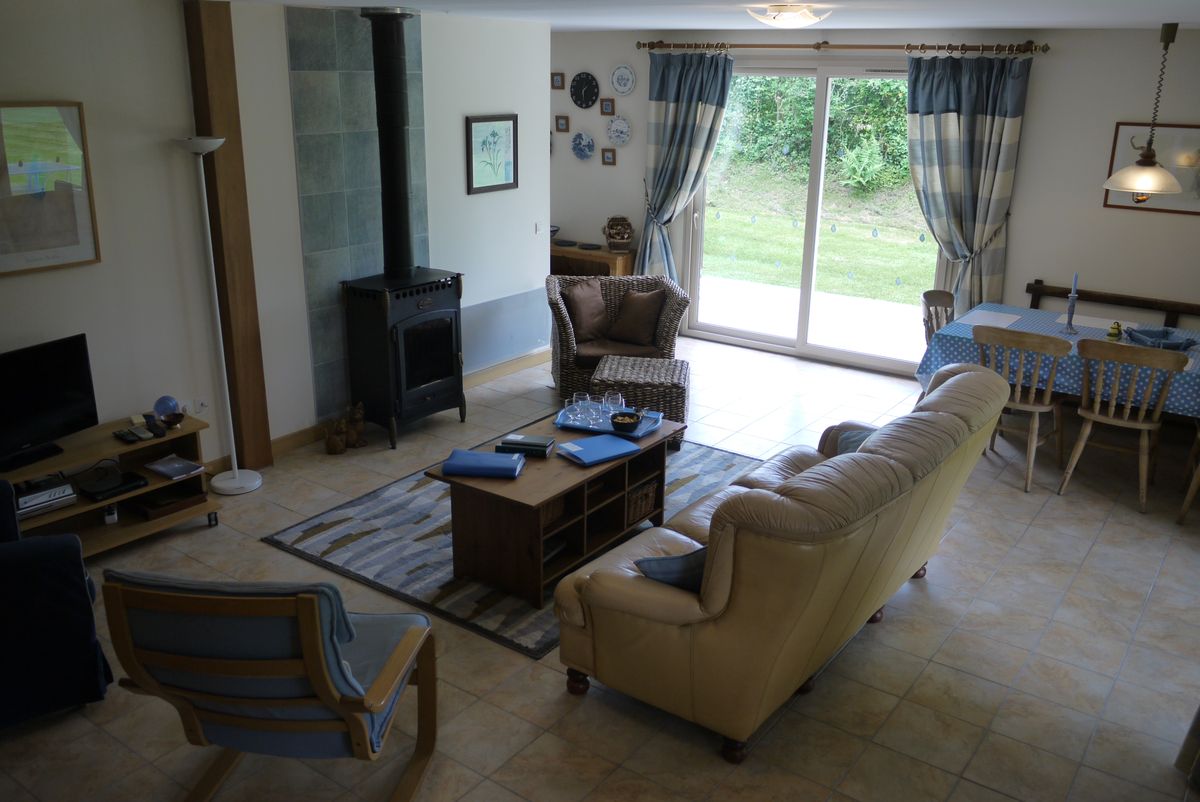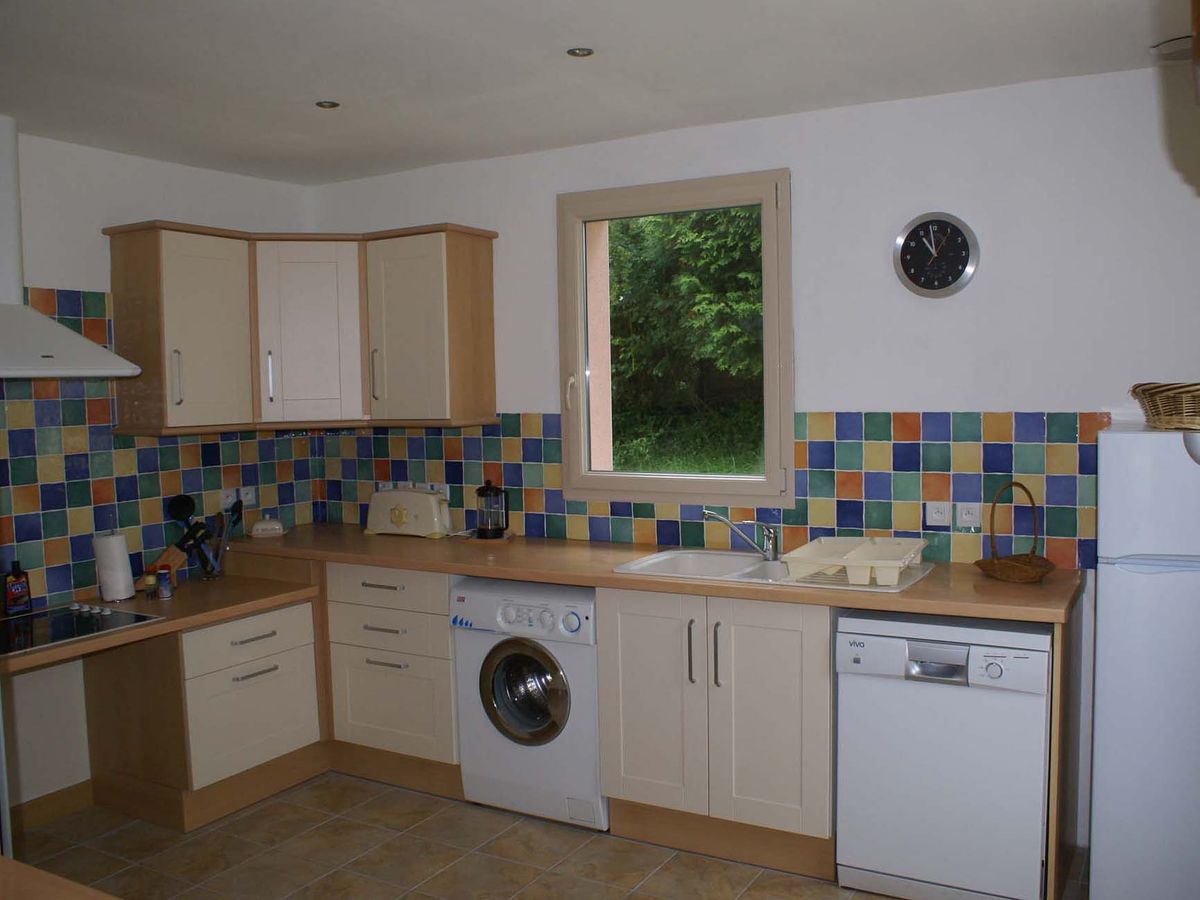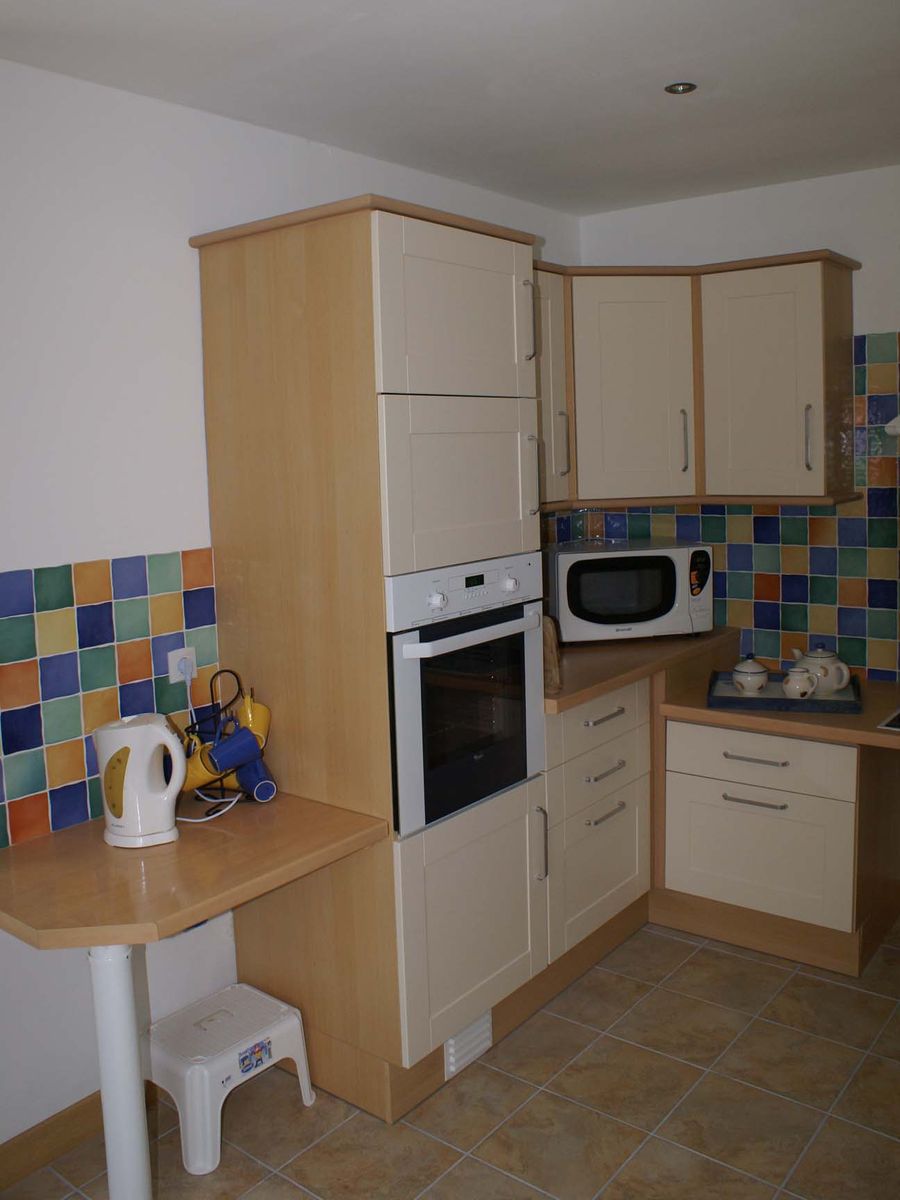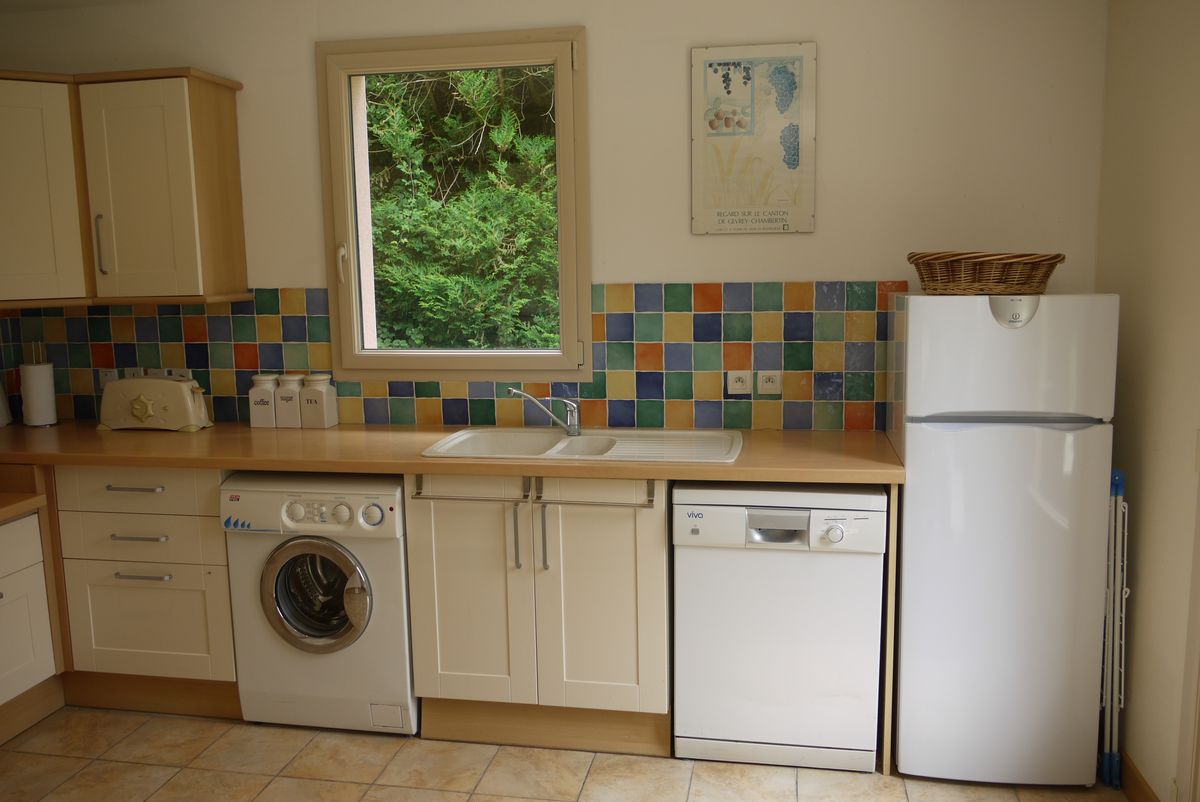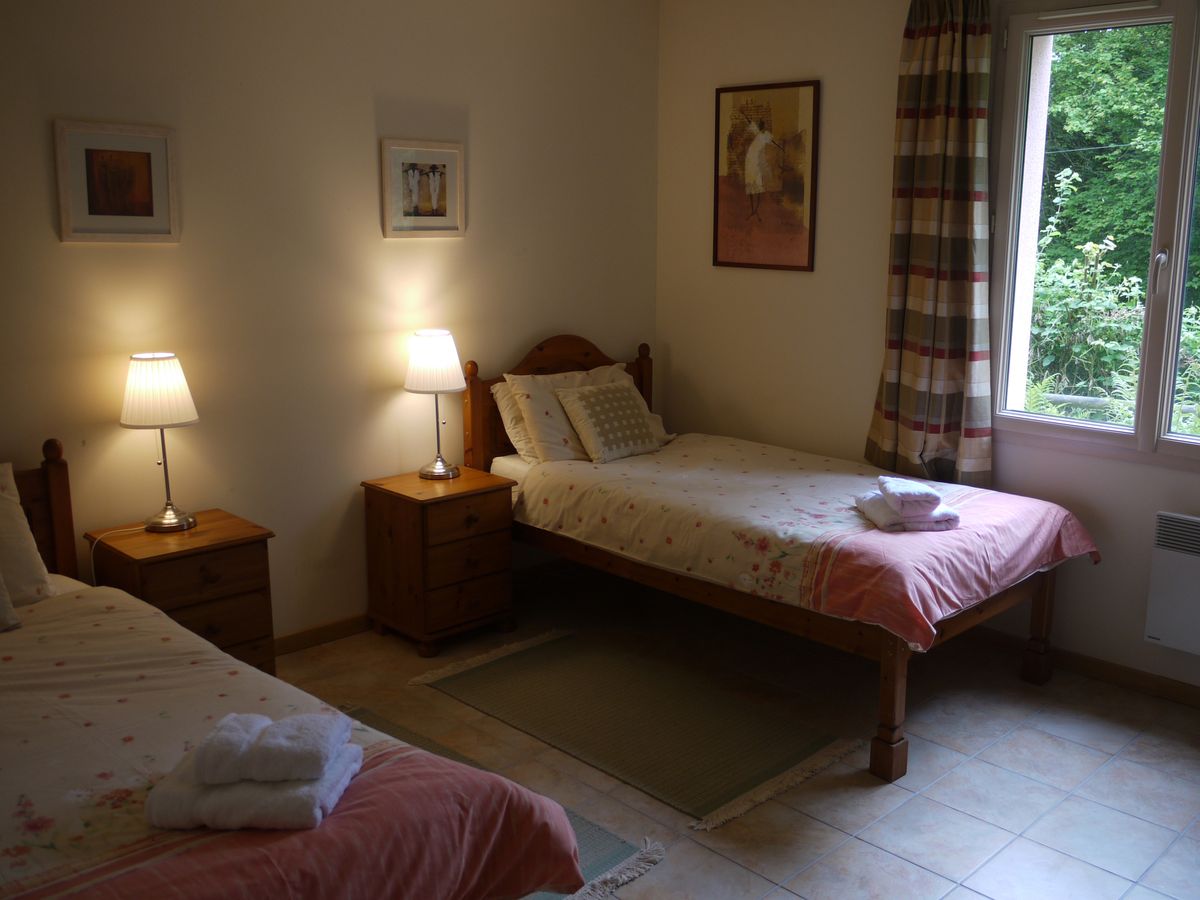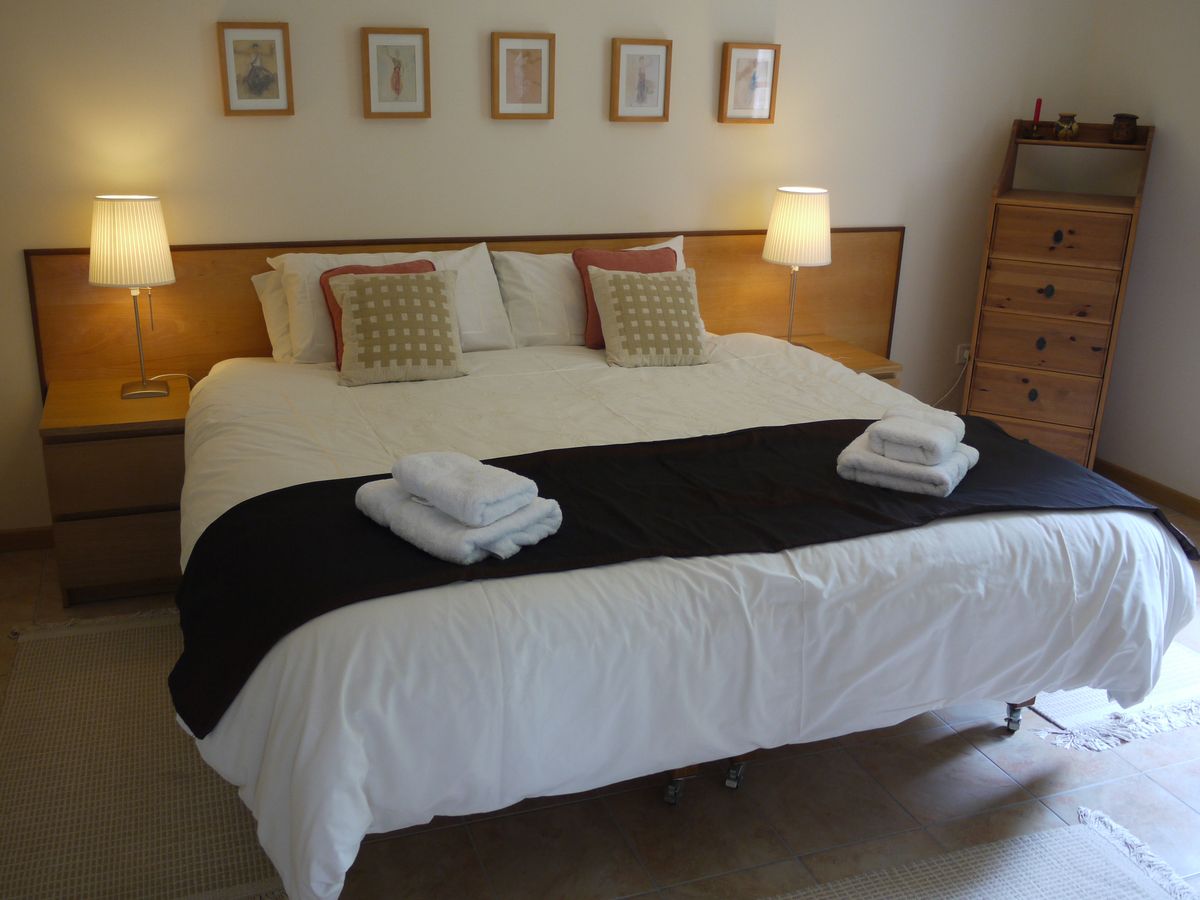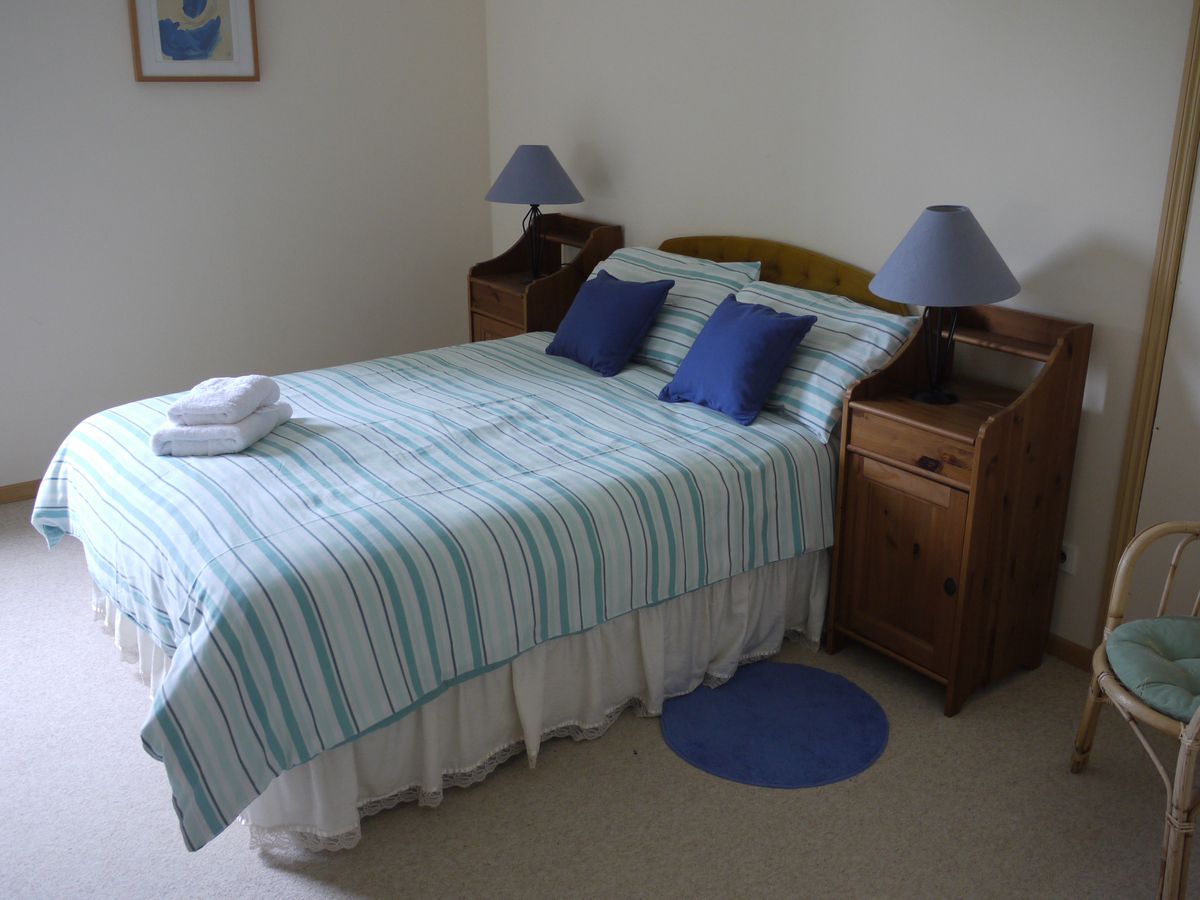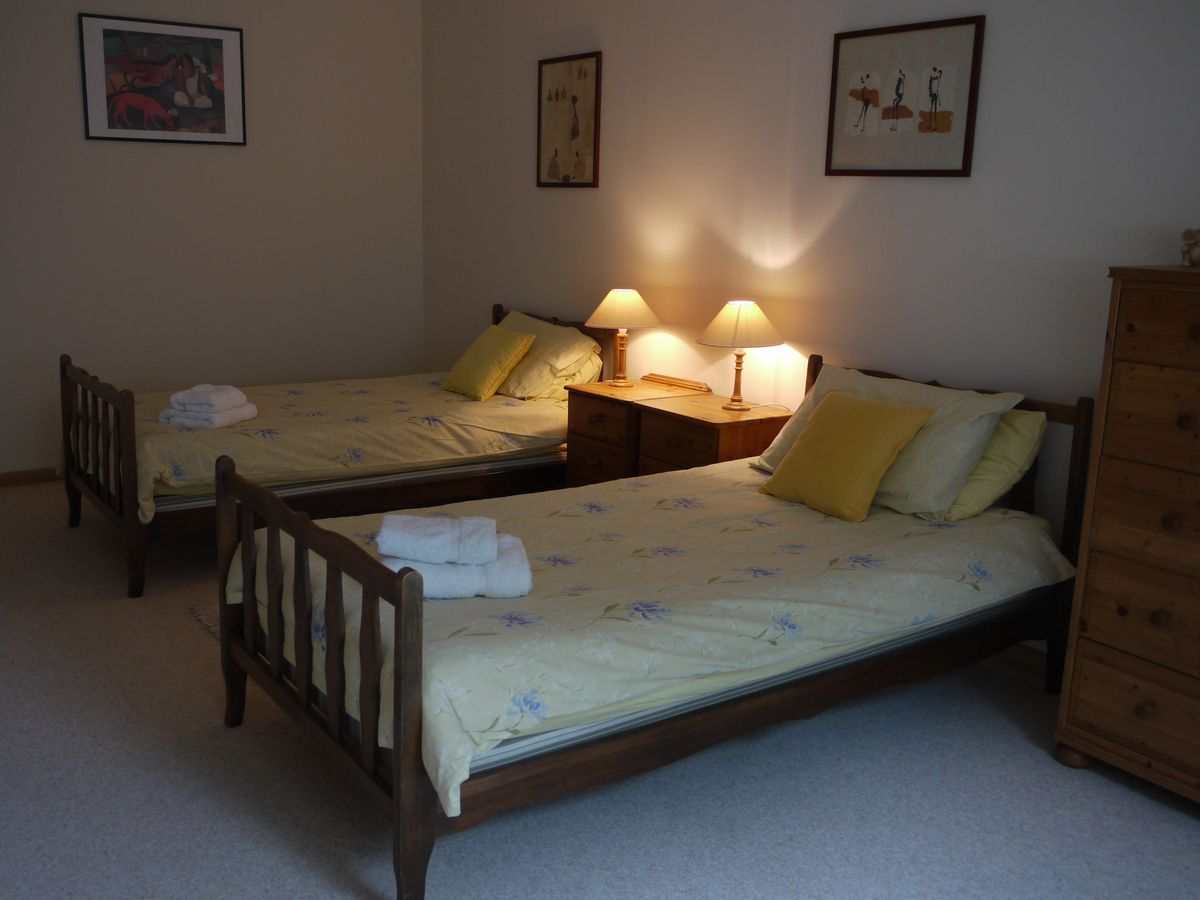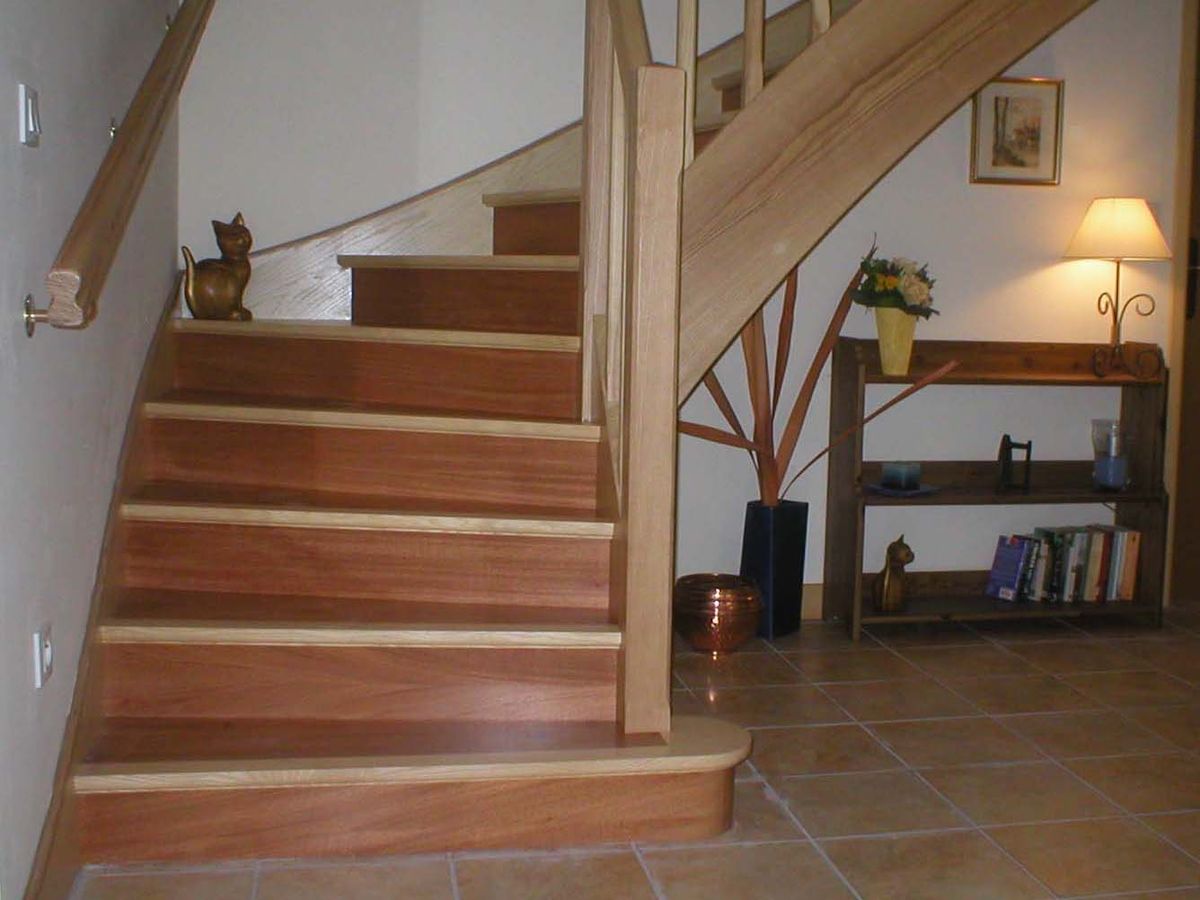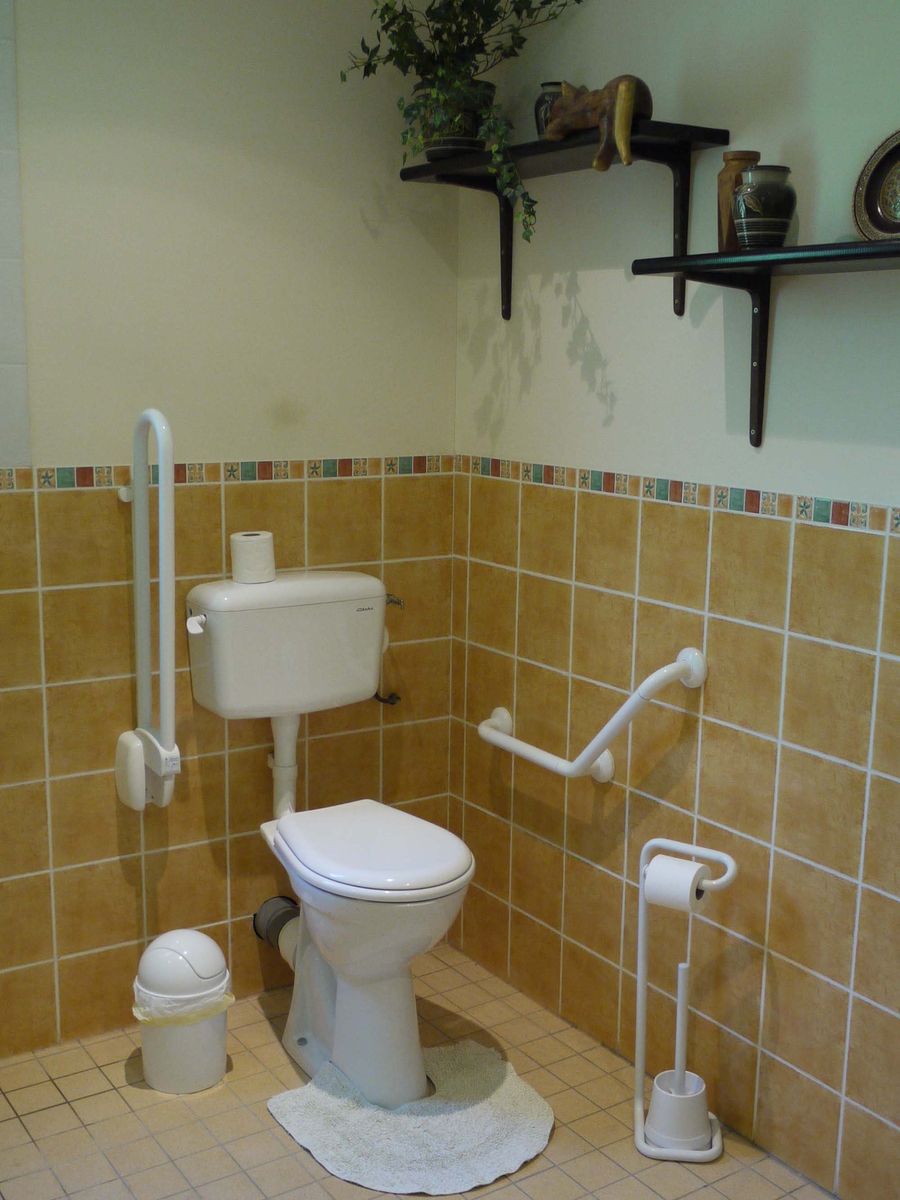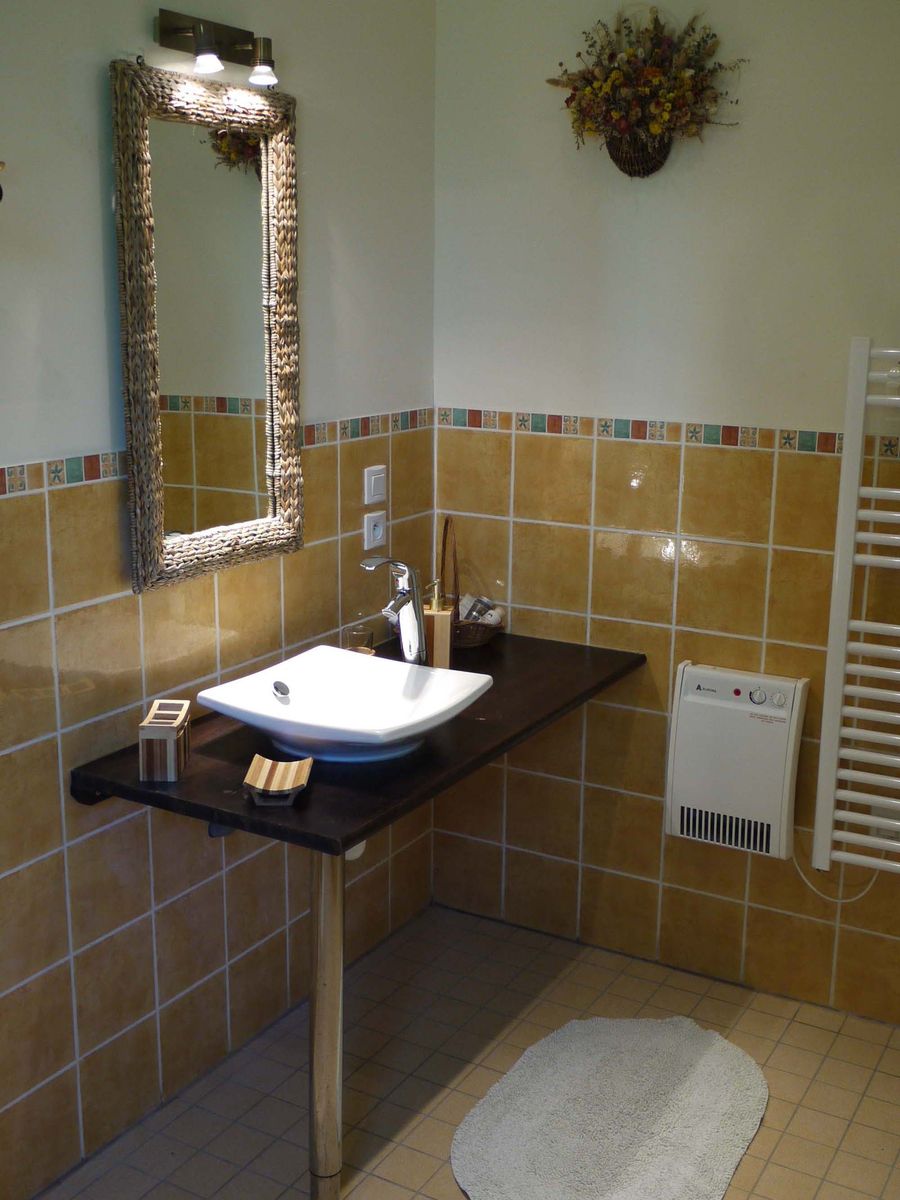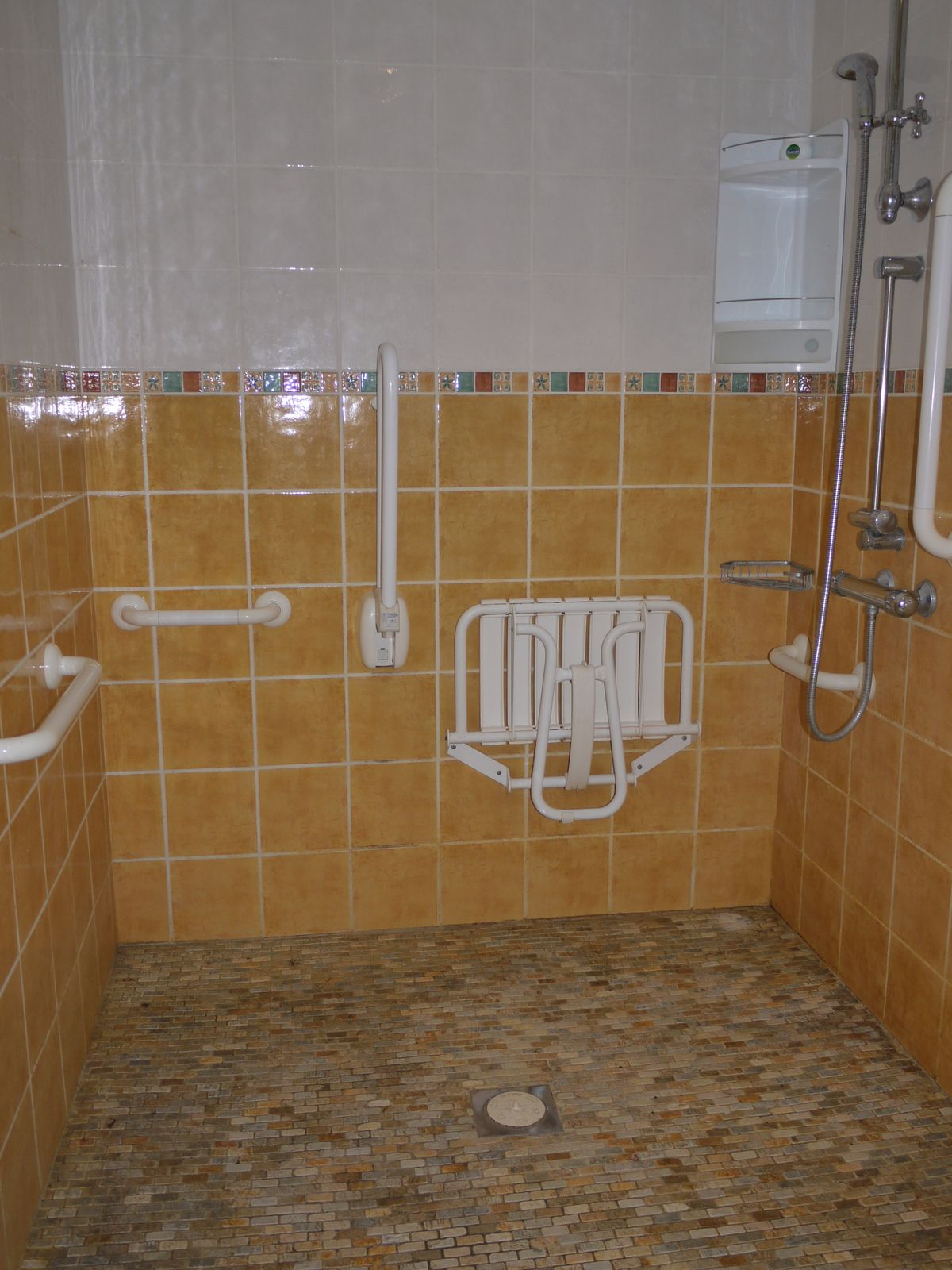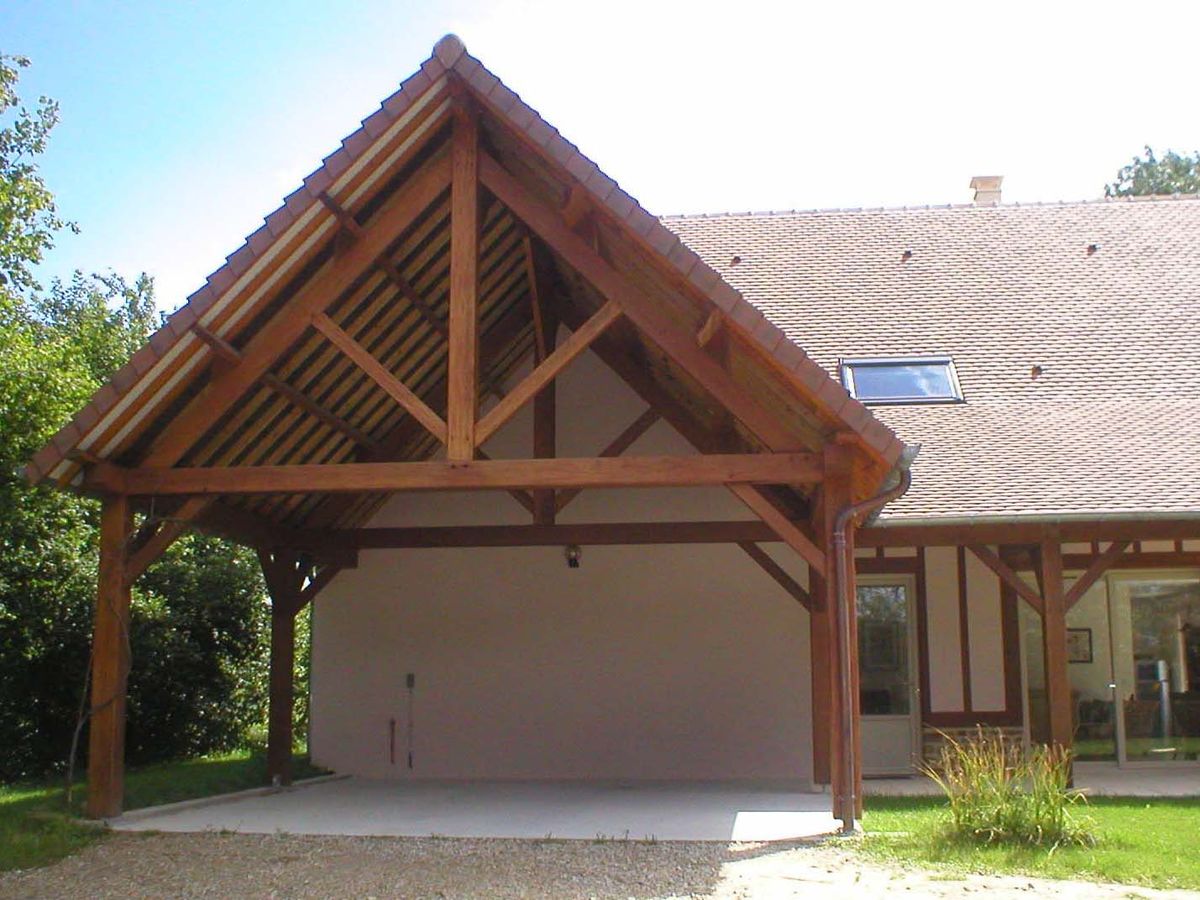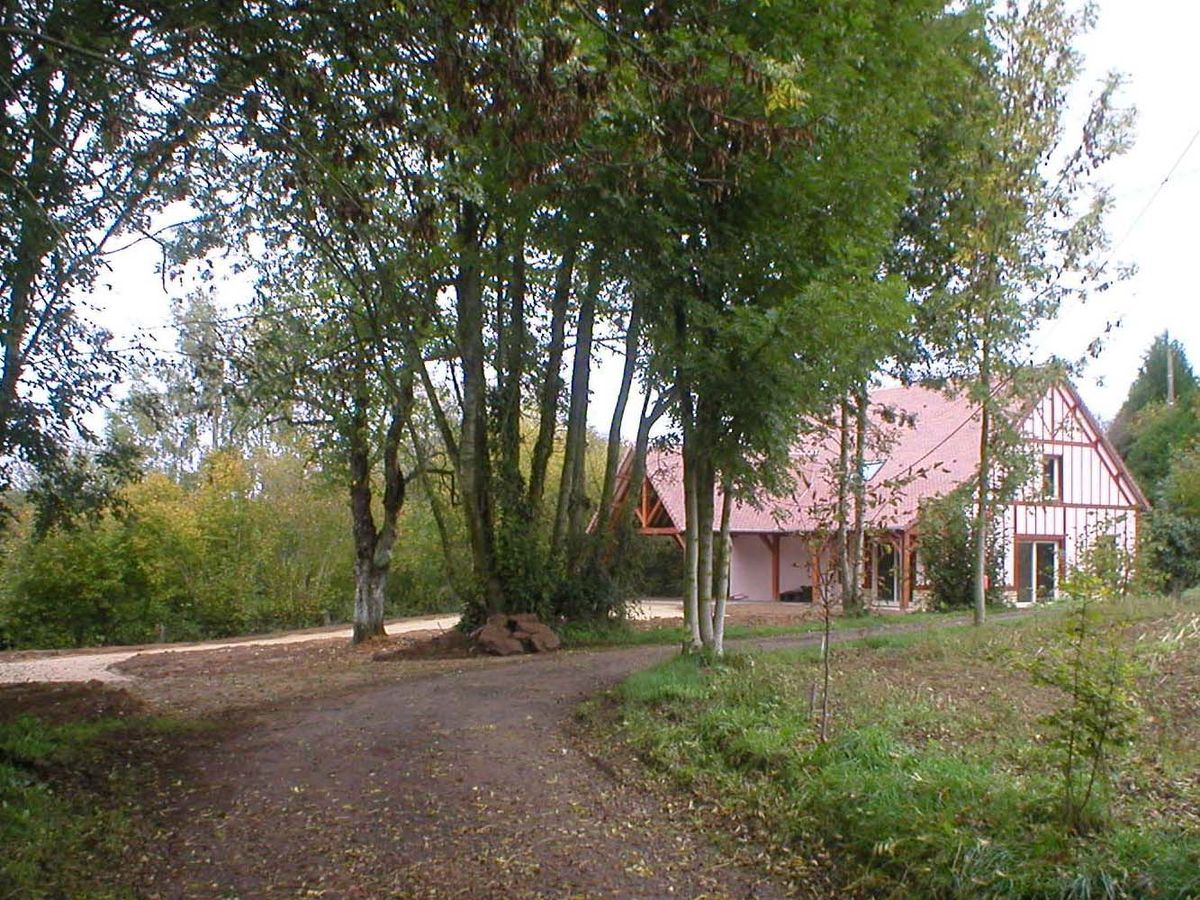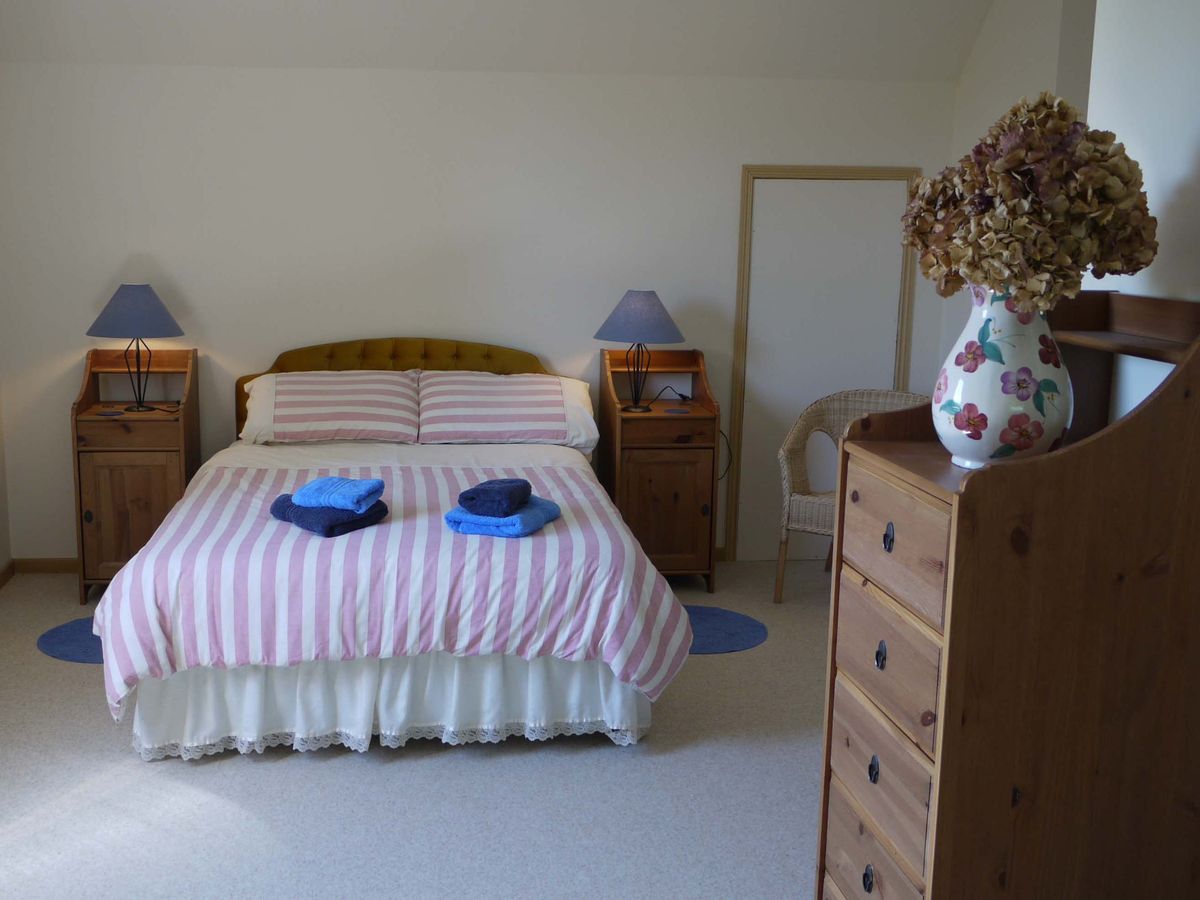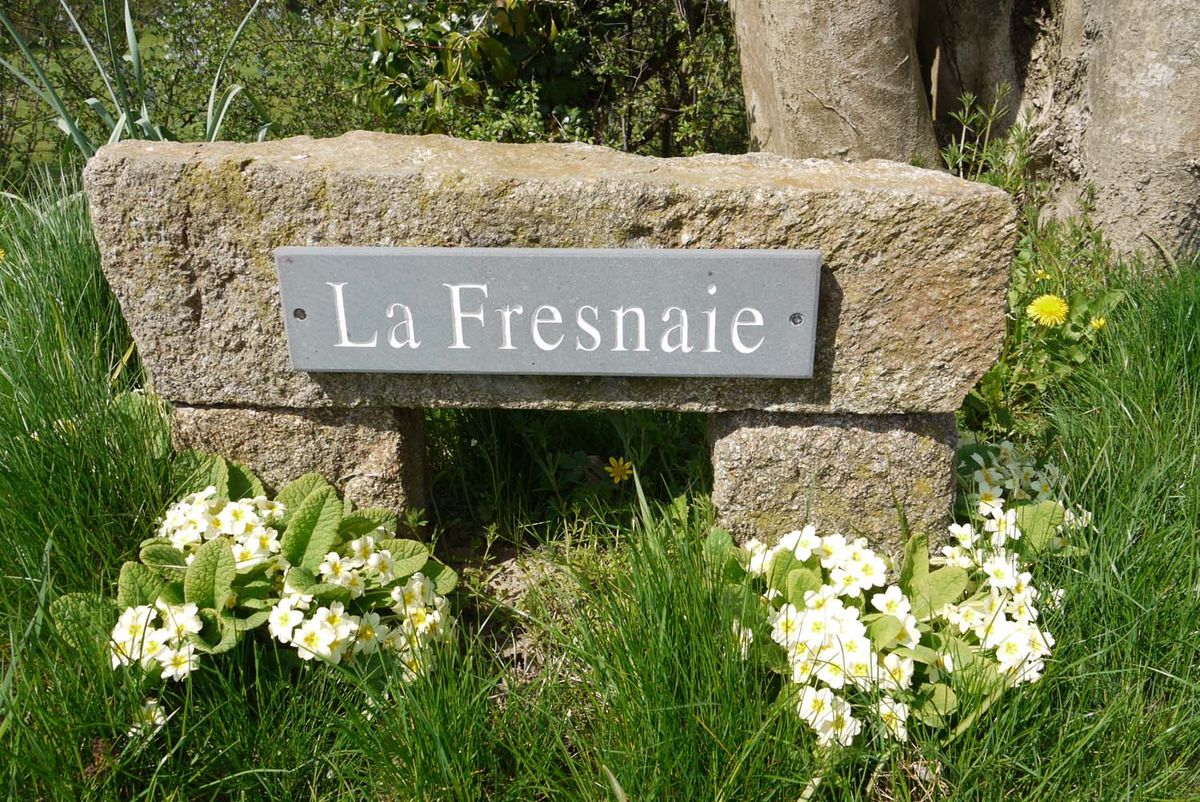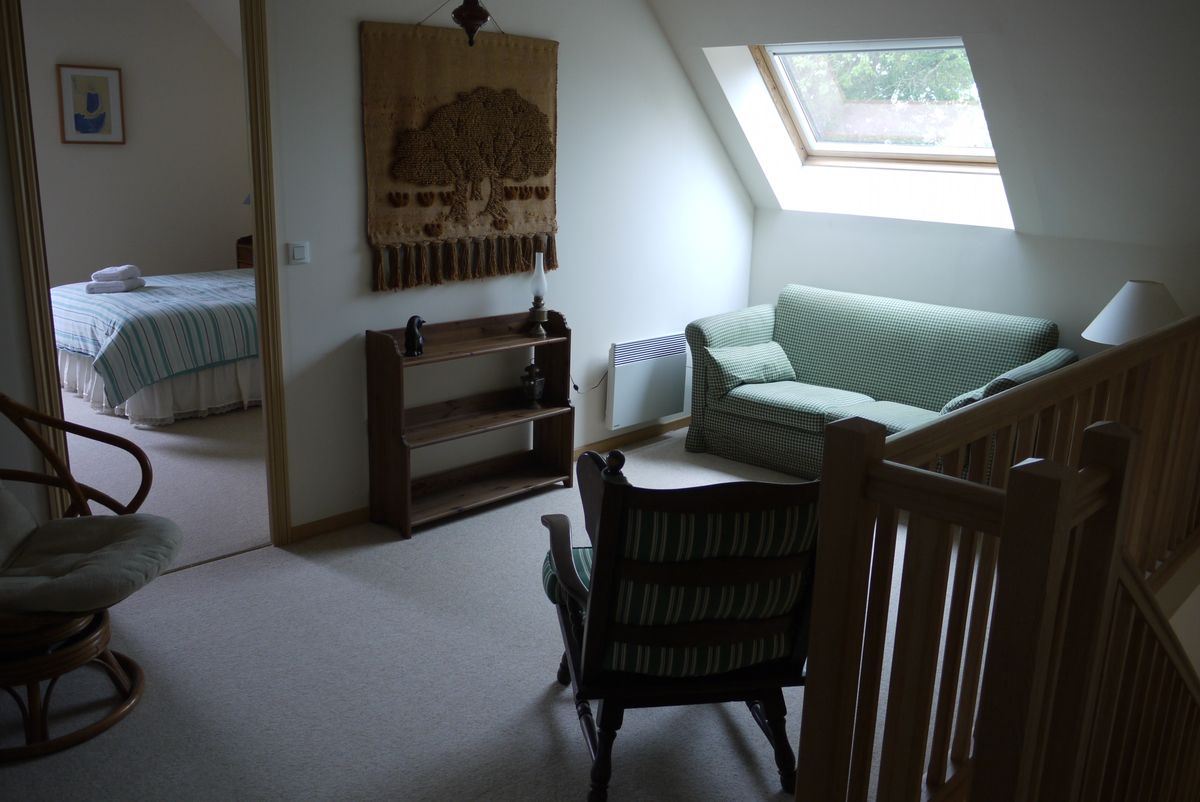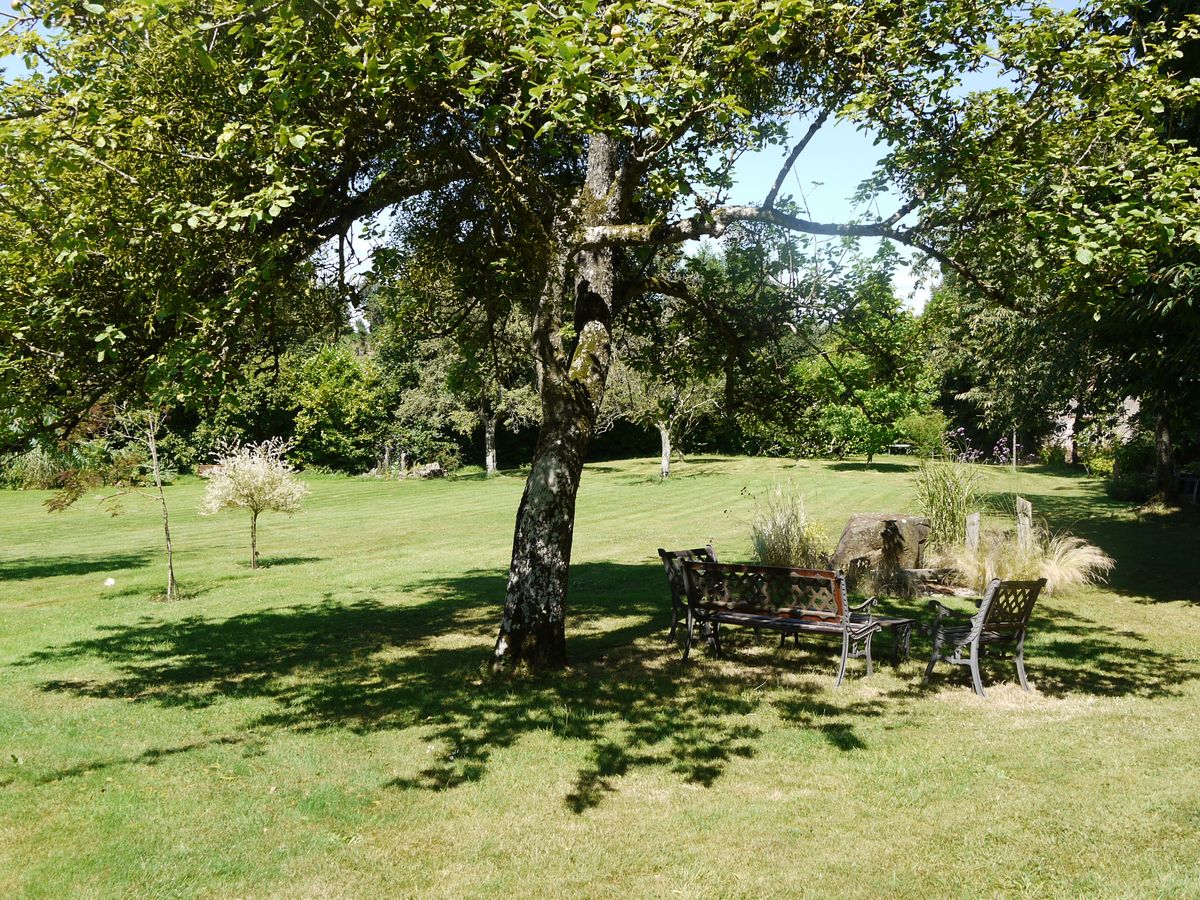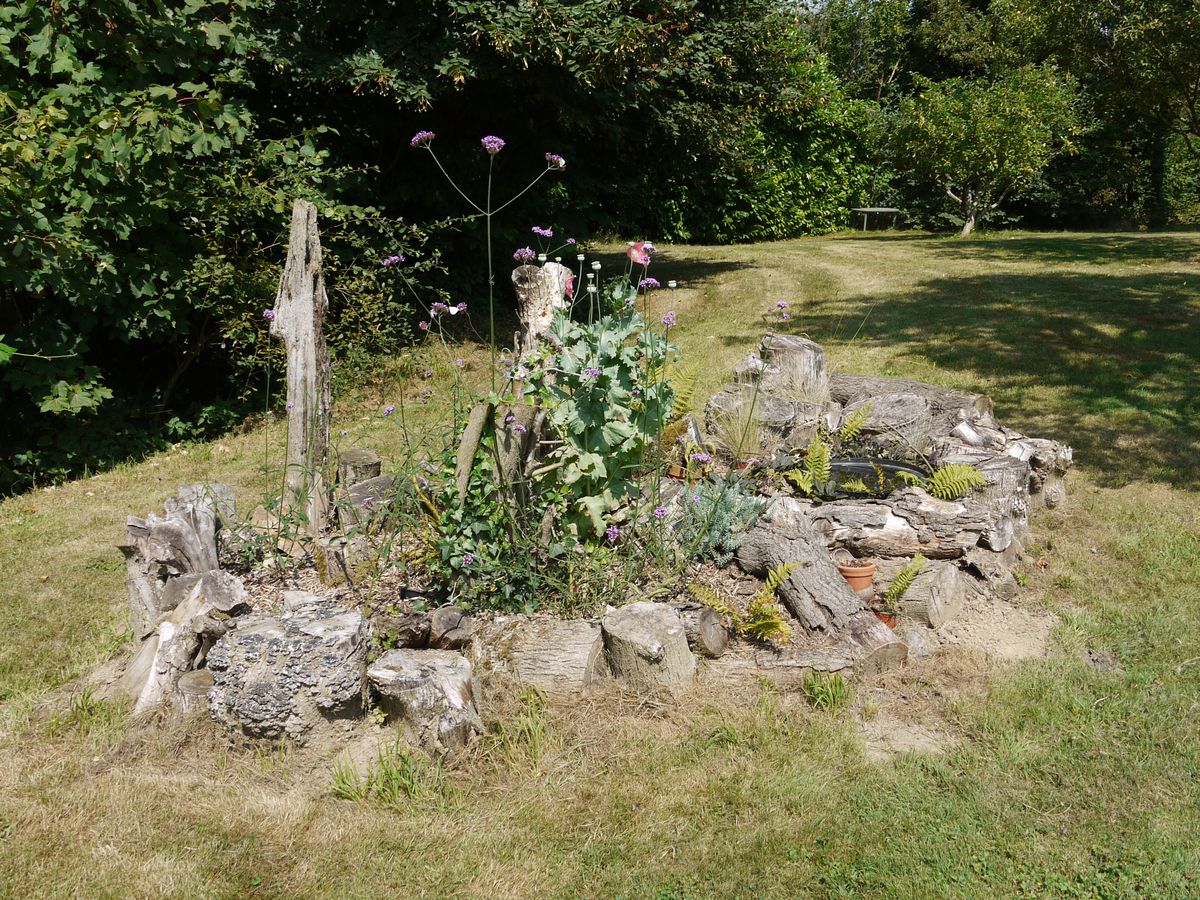 ---
---
La Fresnaie is a modern detached house on a ¼ acre plot, built in a traditional half-timbered "colombage" style typically found in Normandy, and it is surrounded by mature hedgerows. We designed and built it specially for disabled guests, and to ensure the highest level of accessibility for wheelchair users in partcular. Furnished to a high standard, the ground floor of La Fresnaie is all on one level, with tiled floors throughout. The front and kitchen doorways are wide enough for wheelchair access – and there is sufficient room for manoeuvring with ease inside the house.

The large, open-sided garage has room for two cars, with covered access to the front door and the ground floor of the house straight from the garage, which ensures protection from the weather all year round. On the same level as the house and garage are a west-facing, covered terrace and a south-facing open terrace. Equipped with garden furniture and a barbecue, both terraces are accessible from the house via the front and kitchen doors.

Inside, there are two spacious bedrooms, a wetroom and kitchen on the ground floor, and upstairs, there are 2 more bedrooms, a shower room and a separate WC. We offer a choice of 3 bedrooms, sleeping up to 6 people.

Our weekly rental tariff is for up to 4 people, and there is a small supplement for up to 2 extra people.
Visit our own website for full details: www.colmanscottages.com/la-fresnaie
---
---
La Fresnaie is in the small hamlet of Le Haut Fresnay, 2 miles from the market town of CEAUCE, and 8 miles to the south of the medieaval town of DOMFRONT, in the Orne region of southern Normandy.
---
How to Book:

1. If you would like to make a reservation for La Fresnaie booking is easy and direct. We do, however, ask you to read our "Terms and Conditions" thoroughly (see below) before making your booking.

2. To make a provisional reservation having checked the Availability chart on our website, please contact us either by telephone or by e-mail using the Booking Request form on our website, or the Enquiry form on the Access at Lat website. Your enquiry will be dealt with promptly.

3. Having accepted your provisional reservation, we will send you a Booking Form, either by e-mail or by post.

4. You confirm your reservation by returning the signed Booking Form to us, together with your payment of the deposit (25% of the total holiday cost). Provisional reservations are held for up to 7 days to give you time to return your signed Booking Form and to make your deposit payment.

5. Once your Booking Form and deposit payment have arrived, we acknowledge receipt immediately by e-mail or letter (the "Confirmation Letter" referred to in our Terms & Conditions).

6. The remaining 75% balance of your rent should reach us no later than 8 weeks before the start date of your holiday. This payment will be acknowledged immediately. At the same time, we will send you the "Final Details" for your holiday with us.

7. If the start date of your holiday is less than 8 weeks away, please note that you must pay the full amount of the rental at the time of booking.

Booking Terms & Conditions:

Please note that these Terms and Conditions should be read before signing and returning the Booking Form

1. The property known as LA FERMETTE, LE FOURNIL or LA FRESNAIE, ("the Property") is offered for holiday rental subject to confirmation by Group Captain and
Mrs N A Colman ("the Owner") to the renter ("the Client").

2.To reserve the Property, the Client should telephone or e-mail to check availability and to make a provisional reservation. The Owner will provide a Booking Form for the Client to complete and return and will hold the provisional reservation for 7 days to allow time for the Booking Form to be returned.

3. To confirm the booking, the Client will return the completed Booking Form and will pay the initial rental deposit of 25% of the total rent due. This deposit is not refundable. A booking made within 8 weeks of the start of the rental period requires full payment of the rental due, at the time of booking.

4. Following receipt of the completed Booking Form and rental payment, the Owner will send a notice of confirmation, normally by email, which is the formal acceptance of the booking.

5. The balance of the rent is payable not less than 8 weeks before the start of the rental period. If payment is not received by the due date, the Owner reserves the right to give notice in writing that the reservation is cancelled. However, in the event of a cancellation by the Client, he/she will remain liable to pay the balance of the rent.

6.Clients should ensure that they arrange appropriate holiday insurance to cover all risks, including holiday cancellation. Once the booking has been accepted by the Owner, the Client becomes liable for payment of the full rent. If cancellation of the booking becomes necessary, the Owner will still require payment of the balance of the rent, if not already paid. If insurance cover has not been arranged, the Owner will require payment of the rent none the less. Please take into account that the small extra expense of an insurance policy will ensure that the deposit is covered, as well as the balance payment. The Owner will provide proof of any payment(s) to the Client's insurer to facilitate a claim.

7. In the event of a cancellation, the Owner will attempt to re-let the property. Subject to Clauses 2, 3 and 4, refunds of amounts paid will be made if the Owner is able to re-let the Property, and any expenses or losses incurred in so doing (e.g. late advertising) will be deducted from the refundable amount.

8.Any chargeable expenses arising during the rental period (e.g. logs) should be settled locally with the Owner before departure.
SECURITY DEPOSIT - Please note that in accordance with these Booking Conditions, a Security Deposit of 120 Euros or £100 Sterling is required in cash on arrival in case of, for example, damage to the property or its contents, or for additional cleaning charges (see Clause 11). However, the sum reserved by this clause shall not limit the Client's liability to the Owner. The Owner will account to the client for the Security Deposit and will refund the deposit, less any deductions, at the end of the holiday period.

9.The Rental Period shall commence at 4.00pm on the first day and finish at 10.00am on the last day. The Owner shall not be obliged to offer the accommodation before the time stated, and the Client shall not be entitled to remain in the accommodation after the time stated.
The maximum number to reside in the property must not exceed SIX (plus a baby sleeping in a cot) for either LA FERMETTE or LA FRESNAIE, and FOUR (plus a baby sleeping in a cot) for LE FOURNIL.

10. The Client agrees to be a considerate tenant, to take good care of the property, and leave it in a clean and tidy condition at the end of the Rental Period. The Owner reserves the right to make a retention from the security deposit to cover additional cleaning costs if the Client leaves the property in an unacceptable condition, and/or in respect of any breakages or damages by the Client. The Client also agrees not to act in any way which would cause disturbance to residents in the neighbouring properties.

11. The Client shall report to the Owner without delay any defects in the Property or breakdown in the equipment, plant, machinery or appliances in the Property or garden. Arrangements for repair and/or replacement will be made as soon as possible.

12. The Client shall report to the Owner without delay any defects in the Property or breakdown in the equipment, plant, machinery or appliances in the Property or garden. Arrangements for repair and/or replacement will be made as soon as possible.

13. The Owner shall not be liable to the Client:
for any temporary defect or stoppage in the supply of public services to the Property nor in respect of any equipment, plant, machinery or appliance in the Property or garden;
for any loss, damage or injury, which is the result of adverse weather conditions, riot, war, strikes or other matters beyond the control of the Owner;
for any loss, damage or inconvenience caused to or suffered by the Client if the Property shall be destroyed or substantially damaged before the start of the rental period, and in any such event the Owner shall, within 7 days of notification to the Client, refund to the Client all sums previously paid in respect of the rental period.

14, Under no circumstances shall the Owner's liability to the Client exceed the amount paid to the Owner for the rental period.

This contract shall be governed by English law in every particular including formation and interpretation, and shall be deemed to have been made in England. Any proceedings arising out of, or in connection with, this contract may be brought in any court of competent jurisdiction in England.
---
5.00
(Based on 12 reviews)
by Barbara Boyle
The owners are fantastically welcoming hosts
I have just returned from a week at La Fresnaie and am delighted to say that it is very accessible. Our party consisted of myself (wheelchair user), my husband and our one year old daughter and the access within the gite really took the pressure off my husband who only had to run around after our daughter instead of having to do everything for me as he usually does in many places that are 'accessible'. The shower room is spacious with a completely level access shower, although some people may require a shower chair. Floors are tiled throughout and light doors really are helpful. Even the kitchen has a lowered work surface and hob. This is the first place where I have been able to transfer on and off the bed by myself for 10 years!! The weather was not particularly great while we were there, but it was such a relief to know that we had somewhere comfortable to come back to. It's a fantastic place for getting away from it all and weather permitting, we spent a few nights sitting on the patio enjoying the peace and quiet and spotting red squirrels. The owners are fantastically welcoming hosts who take access serioulsy. We hope to return in a few years when our daughter is a little older...and we can have a real holiday!
by Andrew Peat
Le Fresnaie Gite
My wife, daughter & I stayed at Le Haut Fresnay for two weeks in July of this year. After seeing it on the website while searching for accessible holiday accommodation our expectations were high. The reality on arriving at Le Haut Fresnay outweighed our greatest hopes. We were warmly welcomed by Nigel & Pauline who are fantastic hosts with nothing being too much trouble if assistance or advice on local activities is needed. A great deal of effort and planning in making Le Haut Fresnay accessible is apparent. It is spacious giving clear passage and wide turning circles for wheelchair users. The shower room/ toilet has been adapted with a large flat floor shower which includes a pull-down shower chair. The kitchen benefits from having a lowered worktop section and lowered cooking hob. We enjoyed dining al-fresco on the patio soaking up the tranquil surroundings.Overall Le Haut Fresnay is a very comfortable family holiday Gite finished to a high standard which beckons a return.
by Angela Gilmour
A family holiday during August 2008
To say that we were impressed with La Fresnay would be a complete understatement. Well thought out adaptations incorporated into the design of this beautiful house meant that our holiday in August 2008 with our electric wheelchair 21 year old son and his two teenage sisters, was hassle free and easy. Without doubt this is the best 'accessible' house that we have ever stayed in. The tiled floors, wide doorways and the uncluttered rooms suited his needs perfectly and the inclusion of beds with legs (rather than divans) in the downstairs bedrooms meant that using a hoist was straightforward. A spacious, adapted bathroom with a large level access shower was wonderful and being able to make a choice beforehand about which bedrooms to use during our stay was a bonus. Attention has even been given to the dining area which allows a wheelchair user to sit at the table without the need to rearrange a single piece of furniture! Large patios and well landscaped gardens made the house even more special. Set in a tranquil area of the Normandy countryside we were little concerned before the start of our holiday that we would find enough to occupy our 3 ?óÔé¼?£older?óÔé¼Ôäó children but our worries were unfounded. The many markets and chateaux in the local area, and day trips to Mt St Michel, the medieval bell foundry at Villedieu-les-Poêles, as well as Bayeux and Le Mans kept everybody happy. Nigel and Pauline were extremely attentive hosts during our stay. It can sometimes be a little daunting when you go on holiday to know that the owners live on site, but in this case, so warm was their welcome that we actually felt that we were staying with family. Nothing was too much trouble. Le Haut Fresnay is indeed a vey rare gem in the world of accessible holiday accommodation.w
by Richard Castle
La Fresnaie for the Able or Disabled
My wife and I recently returned from a week holiday at La Fresnaie having watched it being built during previous visits to Le Haut Fresnay. Although the house has been designed to meet the needs of those who are disabled, it nevertheless is also a superb base for the able bodied. Whilst the downstairs has been particularly designed with wheelchair users in mind, the bathroom and the kitchen have been especially designed for access by wheelchair users and the able bodied. The bathroom was suitable for general use and the low work surfaces in the kitchen failed to detract in any way from being well thought out and proved to be most useable. The weather was excellent during our visit and we were able to sit out under the front porch which extends the whole length of the front of the house and gives totally covered access to the car port which is well sized to take 2 large cars comfortably. During inclement weather this feature would be a real asset. All rooms are very well proportioned and give a real sense of space. They are light and airy and a pleasure to be in. The design of the whole house is, we believe, superb, be it for able bodied or disabled holiday makers. We have stayed at Le Haut Fresnay on many occasions and look forward to future visits.
by Midge
Le Fresnaie
Tim and I stayed at this excellent accommodation for two weeks in June 2009. This was our first experience of a self catering cottage as we have had motor caravan holidays for nearly 40 years. We booked with much trepidation. However Le Fresnaie met all our requirements and surpassed our wildest expectations. Pauline and Nigel were welcoming from their first email and ensured we had everything we needed on arrival and throughout our stay. Tim is confined to a wheelchair but found the entire ground floor easily accessible. He did have difficulty tansferring from the easy chairs and settee as they were all too low. The bed was comfortable and accessible from either side. Pauline and Nigel had provided information about the area, commenting on the ease of access. We enjoyed the peace and quiet and found local roads suitable for walks and 'cycle' rides. We did not miss our van as we had feared but are now worried about finding future accommodation which will live up to this standard.
by Lyn & Dave
La Fresnaie
We stayed for 3 weeks at La Fresnaie and found it to be a first class holiday let. Our hosts made us feel very welcome and were available whenever needed without being obtrusive. The property is well laid out for wheelchair users and other members of the party. The undercover garage is most useful on any rainy days as everyone can remain under cover from the car to inside. The property is in a tranquil surrounding and is great for lazy days, when you just want to sit and read under the porch. Most unusual to find a property with such disabled friendly facilities.
by Tony And Beverley
La Fresnaie - Wheelchair accessible accommodation at its best.
From the moment we pulled up in the large carport with its covered access to the front door, and saw the sun trap of a patio extending along two sides of this impressive detached house, we knew we had made the right holiday choice. The ground floor is designed to be fully wheelchair accessible without it appearing to be so adapted. It is an added bonus that this spacious and comfortable property is in such a pretty area of France with so much to see and do. Nigel and Pauline are the perfect hosts. They are attentive and helpful without being intrusive. They are aware that that the needs of those of us with mobility problems vary greatly, and are prepared to 'go the extra mile' to meet these needs. We had a very enjoyable week, and our first job on returning home was to book again for next year - this time for a fortnight.
by Carol and Keith
Easter 2011
This gem is a place to which we will return - hopefully more than once. We stayed for two weeks over the Easter period, the weather was a bonus being in the high 20s, and this gave us chance to savour the delights of the glorious setting for La Fresnaie, squirrels chasing across the lawn, incessant birdsong, sun beating down on the South/West facing patios, Normandy gastronomic delights on the table, cool cider and poiré assisting our unwinding - there is only one word PERFECT. Over the years we have tried various ?óÔé¼?£accessible?óÔé¼Ôäó holiday destinations, both in the UK and Europe, this house is the best we have ever stayed at. The tiled floors give complete freedom of movement, the lowered kitchen worktop ensures a wheelchair user can make a cuppa or cook on the hob, a double car port means dry transfers in inclement weather. The bathroom is big and the shower is easy to use and spacious, the layout of the bedrooms means that most combinations can be catered for ?óÔé¼ÔÇ£ so often it is presumed that wheelchair users don?óÔé¼Ôäót or can?óÔé¼Ôäót use double beds ?óÔé¼ÔÇ£ this was super king and so comfy. The TV channels are all English, a bonus for those who can?óÔé¼Ôäót live without news or a dose of sport. The crown jewels of this Normandy haven are surely Pauline and Nigel, nothing is too much trouble but their presence is unobtrusive. We had a minor medical problem which necessitated dealing with pharmacists, Pauline offered to translate for us, a great help! She was a fount of information about places to visit and offered helpful advice - this was appreciated, as some of the local towns do have steep hills and cobbles. Local markets abound and we found the best to be at Fourgères and Saint Hilaire du Harcouet. Bagnoles de L?óÔé¼ÔäóOrne, about 20 minutes away, is a beautiful town and certainly worth a look. La Ferté-Macé possesses a large Leclerc supermarket with huge disabled parking spaces and undercover parking. Le Mans and its race circuit are a good excursion, the museum is particularly accessible.
by Frances and Nick Durkin
An ideal holiday destination
Review We have just returned from our third stay at La Fesnaie which we enjoyed more than ever as we were blessed with fantastic weather for the whole fortnight. I am a full time wheelchair user and it is reassuring to know that we will be able to cope very easily with my needs as the house has been so well designed with plenty of room to move around in as well as a spacious wet room and accessible kitchen. Nigel and Pauline are attentive and helpful hosts. Although rural France can be challenging to wheelchair users we were delighted to discover some new walks along disused railway lines as well as a towpath. We intend to return again and savour the delights of this beautiful corner of France.
by Pamela & Peter Burden
La Haut Fresnaie
This was our third stay at La Fresnaie. We stayed for a week at the end of April. La Fresnaie does not disappoint, the accommodation is ideal for my wife who is disabled while the children did their own things upstairs. The house is modern and comfortable; under cover parking on the level is a bonus. Conveniences include English satellite TV (and radio) and Wi Fi Internet connectivity. A mention must be made of the prepared meals available from Melanie and David, the Mayennaise team. These are available on arrival or as a special gourmet meal at La Fresnaie which we booked. We were encouraged to go out for the afternoon, when we got back the table was laid with fine linen, cutlery and glassware and we sat down to an aperitif, first course, main course, cheese and dessert with coffee to follow. It was excellent, the service as good as the best restaurants we've visited. And we didn't even have to think about washing up. La Fresnaie has several delights, the ?óÔé¼?ôbrunette?óÔé¼?Ø squirrels chasing each other over the patio, the stars on a clear dark night, the birds and the peacefulness. The local village, Loré, is within walking/wheeling distance and has a small shop. Disabled access in rural France can be a bit of a lottery, Leclerc's large supermarket at La Ferté-Macé is fine for domestic shopping, Bagnoles-de-L'Orne is a spa town good for a pleasant afternoon. Domfront is accessible (including the ruined castle) and well worth a visit, park by the Mairie, admire the extraordinary concrete church. Further afield at Le Mans, the motor museum is fully accessible and well worth a visit but the wonderfully preserved and atmospheric medieval quarter is, alas, all steps and cobbles. But La Fresnaie's greatest asset is undoubtedly Pauline and Nigel who, were, as always helpful and considerate booking a wheelchair for us and arranging a doctor's appointment when my wife developed toothache. Peter Burden, Wolverhampton
by Carol and Keith
Welcome return
Our second Easter at La Fresnaie and it continues to delight. The accommodation was as good as ever and this year the bed was adjusted to our height requirements, so transfers were easily managed. That is why this accommodation is so good, if you need help, assistance or advice Pauline and Nigel are always there, they somehow manage to be attentive but not overpowering. A skill rare in holiday accommodation. The inclement weather meant we fired up the wood burner, this made the lounge pleasantly warm and cosy. It was easy to manage and Nigel was on hand to steer us through how to get the best out of it. Pauline's jam was a constant visitor at the dining table, we can thoroughly recommend the raspberry! We hope to return next year for some more restful time at this Normandy gem.
by Beverley Lunn
Recent holiday - 10th July 2016 to 16th July 2016
Really has the WOW factor. The approach to the property, the introduction to the facilities and being shown how to use facilities was excellent. There was nothing negative or anything we needed or would have done better ourselves.

We were made to feel very welcome at the property, and the places we visited. Le Mont de Michel, was our best trip and everyone was so friendly and helpful. And so where the little towns we visited.

Nigel and Paula made us feel very comfortable, and we felt that if we had an issue or query they would help us, but thankfully we didn't.

Brilliant experience for us and the people we where supporting. Lovely accommodation - want to go again.

Sammy, Katie, Bev, Ann and Sarah,