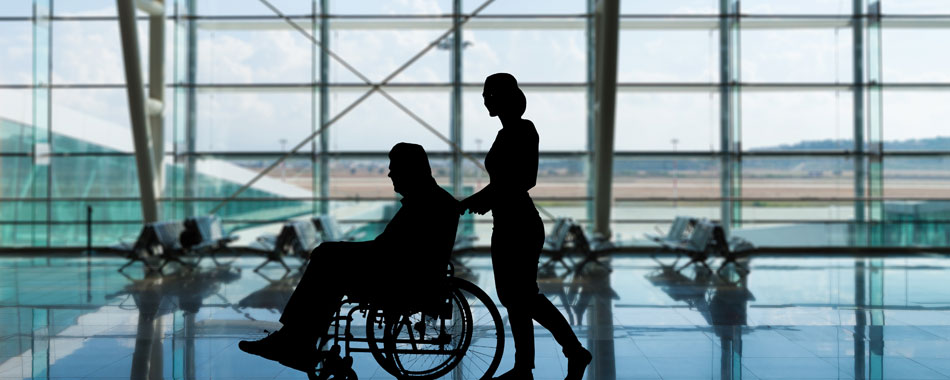 Tips for the Disabled Traveller
Travel for people with disabilities can be a daunting prospect, but with a bit of planning and a few ingenious tips the whole process and experience can be made far smoother and give travellers a vastly greater chance of a successful, enjoyable and relaxing holiday.
Research
If the success or otherwise of the travelling experience of a disabled person could be distilled into a single factor it would be research. Fortunately, living in the age of information as we do it has never been easier to carry out the necessary research. Here are some of the areas in which research prior to booking and travelling will yield the best results:
Transport
Whether you are travelling by plane, train, car, bus or ferry you should look to do preliminary research into the facilities and concessions made for disabled travellers. Often a simple phone call to the carrier can do wonders for ensuring that every effort is made to accommodate your particular needs at each leg of your journey.
Accomodation
Rather than falling in love with a particular hotel, bed and breakfast or other holiday rental and then checking on the accessible facilities it is far better to start with your needs and whittle down the list of potential accommodation from there. Read plenty of reviews, including those from other disabled travellers and you should not only get an idea of the quality of facilities but also of the attitude and capacity of staff to deal with your needs. Having a comfortable, relaxed and facility-laden base is important for any enjoyable travel experience. Even when you have found the perfect accommodation you can enhance your experience by ensuring the following:
Your room is either on the ground floor or easily accessible, being close to a lift and not at the end of a long corridor
Restaurants are easily accessible
The hotel can provide a list of recommended facilities and amenities in the local area, ready for your arrival
Other travel tips
Keep it simple
This is especially true if you are not a seasoned disabled traveller. Don't be afraid of starting small for your first ventures into the world of travelling. Look for destinations closer to home, airports with the best facilities (Copenhagen for instance) and city breaks or resorts with accessible facilities and transfers. A degree of pessimism helps.
Planning for the worst will make things go far smoother should things go wrong. For instance, what would you do if your wheelchair broke? If you think about this prior to travelling and research a back-up plan, it will be far less scary should this actually happen. Without going into full-on doomsday mode, consider some worst-case scenarios and do the research (that word again) into some fool-proof plans.
Know the rules in the country
Every country has its own rules and regulations in relation to disabled people. There are many countries that allow for more flexibility for disabled travellers such as queue jumping and free buses. Knowing this prior to travelling can prove a big advantage.
If you have a blue badge then this is not always valid in other countries. For example visitors to New Zealand are entitled to use the Operation Mobility parking concessions while on holiday. This card can be obtained from any CCS Branch in New Zealand by showing either a doctor's certificate or your UK blue badge.
For European Countries please click here for the latest information about using your blue badge.
Insurance
It is important to buy travel insurance when planning a trip in the UK or abroad. Policies will cover things like medical costs, equipment and cancellations. You can have peace of mind that if anything happens during your trip you will have the support you need and can claim some or all of the costs.
* You will need to
login as a user
to leave a comment or reply to an existing one.
---
Comments